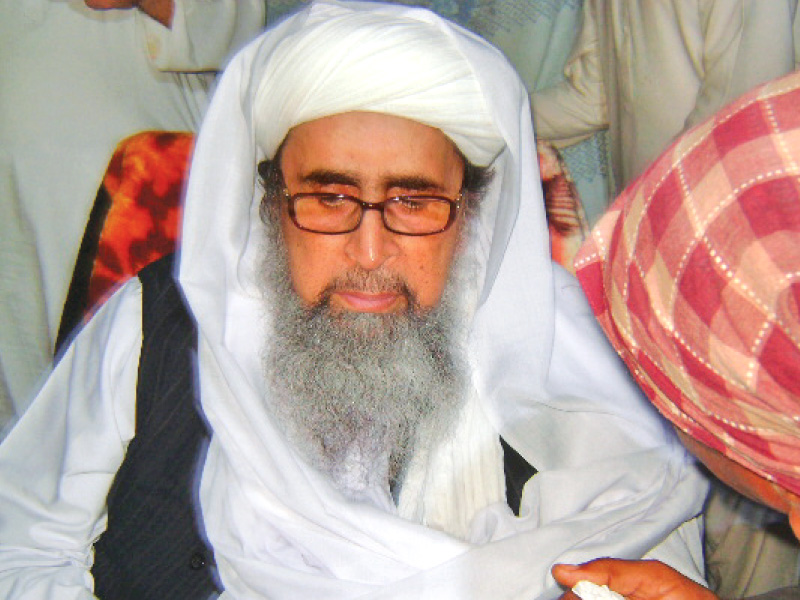 ---
SUKKUR:



Dargah Hussainabad is a place of learning for hundreds of students, who live there free of cost. Among the largest religious institutions in the country, the dargah has produced hundreds of clerics and Hafiz-e-Quran.




Religious cleric Syed Ghulam Hussain Shah Bukhari - popularly known as Saeen Hussain Shah Qamber Waro - who manages the institution, made sure that the dargah is free of all political associations. Given this ideology, it was hard to believe that a bomb was planted on the side of a road that Saeen Hussain Shah was supposed to take. While Shah survived the bomb blast, his grandson was not very lucky.

Shah enjoys immense popularity among people of various sects living not only in Pakistan but abroad as well. Several politicians also visit Dargah Hussainabad in Qamber to pay reverence to the cleric and ask for his blessings. In fact, Benazir Bhutto, the country's former prime minister, often paid visits to the dargah and sought Shah's blessings.

Shah was born in 1936 in Drib Chandio village in the Miro Khan taluka of Qamber-Shahdadkot. He received his early religious education from his father, Syed Gul Muhammad Shah, and Maulana Khushi Muhammad Tunio. He also studied under Ghulam Muhammad Chandio and Ali Gohar Mastoi. His spiritual teacher was Khawaja Muhammad Abdul Ghaffar alias Peer Mitha Saeen, whose dargah is in Rehmatpur Muhalla in Larkana.

After his early education, Shah left his ancestral village and came to Qamber town, where he started leading the prayers in Surhio Mosque. He also performed the duties of a peshimam in Qamber's Goindi mosque for some time. In 1980, he built a mosque and madrassa at Station Road, which is known as Dargah Hussainabad. He is also the chief of his own Tanzeem Islahul Fuqra alHussainia, which is aimed at providing religious education to people.




One of Shah's grandson, Asadullah Shah Bukhari told The Express Tribune that his grandfather has faced a tough life. He had three sons and two daughters of whom only a son and a daughter are still alive. His eldest son, Syed Gul Muhammad Shah died at the age of 42 and his younger son was electrocuted at the age of 13. One of his daughters also died at the age of 40.

Needless to say, the recent death of his 17-year-old grandson, Syed Shafiq Ahmed Shah Bukhari, was a big shock for the family. "Shah is a religious cleric, and has nothing to do with politics, and did not have any political rivalry either," said Asadullah. He believed that the attack on Shah's convoy could not be termed anything but a terrorist activity.

The attack injured seven men, including Shah's driver, Imdad Hussain, and other supporters. Hussain lodged an FIR at Abad police station in Jacobabad against five unidentified men. The police have so far arrested six men, including Muhammad Ali Soomro and Nazir Mirani, who are being interrogated.

Published in The Express Tribune, February 24th, 2013.
COMMENTS (4)
Comments are moderated and generally will be posted if they are on-topic and not abusive.
For more information, please see our Comments FAQ