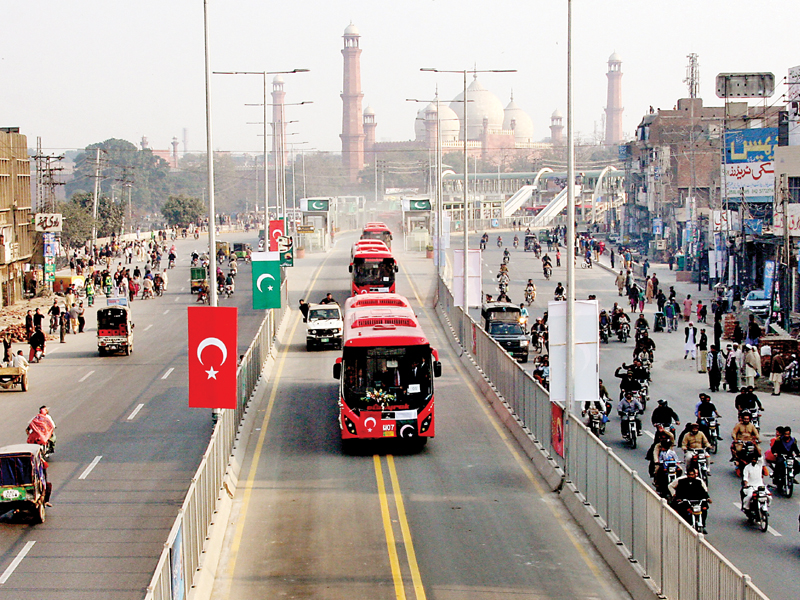 ---
LAHORE:



The Punjab government on Sunday inaugurated the country's first metro bus service in Lahore.




The project, which cost roughly Rs30 billion, has been completed in the short span of one year. Under the service, 115 metro buses, with a capacity three times that of ordinary buses, will run along a 27km corridor, from Gajju Matta to Shahdra, in Lahore. Twenty-seven metro bus stations will be set-up along the route and under the plan, a bus will be available every three minutes at each station.

Forty-five buses have been procured from China for the first phase of the project. A metro bus authority has also been set-up to run the administrative matters of the service. Under the directives of Punjab Chief Minister Shahbaz Sharif, the bus fare will be kept within the reach of the common man. For the service's first four weeks, citizens will be allowed to travel free of cost as well.

The Deputy Prime Minister of Turkey and the Deputy Mayor of Istanbul were among dignitaries from 50 countries present at the inauguration ceremony held at Nishtar Park on Sunday. The entire Pakistan Muslim League-Nawaz (PML-N) leadership also attended the launch, along with the senior leaderships of Jamaat-e-Islami, Jamiat Ulema-e-Islam Fazl and Jamhoori Watan Party.

In his speech at the inauguration, Chief Minister Shahbaz Sharif said the service will abolish the division between the upper and lower classes of society.

"The rich and the poor, bureaucrats and ordinary citizens, the Chief Minister and the voters, all will travel in these buses," he maintained. He vowed that his party, if elected in the upcoming polls, would set-up a similar service in Karachi. Recounting the PML-N's previous two terms, he said under his brother Nawaz Sharif's leadership, the motorway was established in 1990 and Pakistan became a nuclear power in 1998.

In his brief talk with the media, PML-N chief Nawaz Sharif addressed criticism against the launch of the metro bus service saying it would die down the same way criticism for the motorway did.

Meanwhile, Turkish Deputy PM Bekir Bozda, in his address, termed the launch of the bus service as Pakistan's first step on its path to become a developed country. Appreciating the relationship between Istanbul and Lahore, he lauded Shahbaz Sharif's 'brave step' to introduce the service.

Published in The Express Tribune, February 11th, 2013.