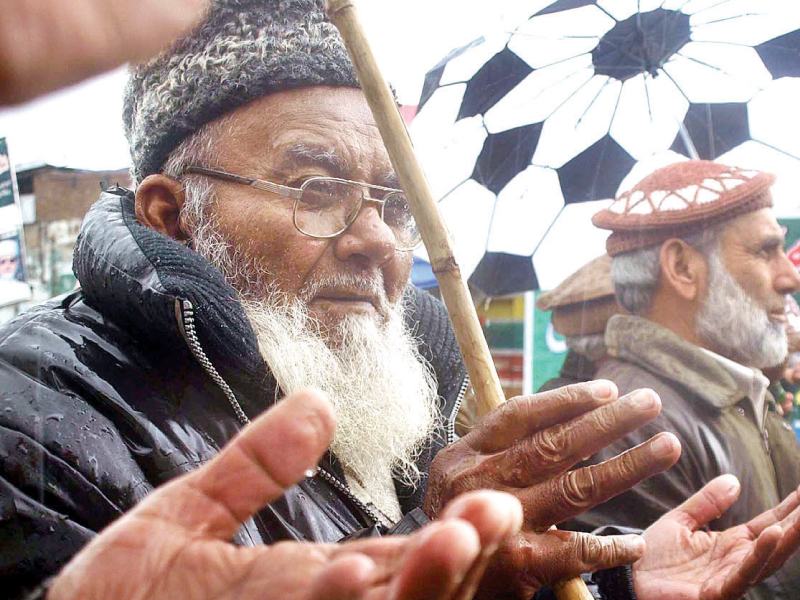 ---
ISLAMABAD:



The struggle for the freedom of Kashmir is a struggle to geographically complete Pakistan, said Jamaat-e-Islami (JI) spokesperson Fareed Paracha on Tuesday, adding that solidarity for the cause is synonymous with supporting the idea of Pakistan.




Addressing a rally of JI activists at G-9 Markaz in the capital, Paracha said "without Kashmir, Pakistan cannot be rendered geographically and ideologically complete. Whereas an Islamic system of government will complete the ideology of Pakistan, Kashmir's freedom from Indian occupation will complete the country geographically."

Using the emotionally charged occasion to denounce the government's decision to award the Most Favoured Nation (MFN) status to India, Paracha said "we must first liberate Kashmir and get back our rivers from India before seeking normalisation of relations between the two countries."

Praising Kashmiri Hurriyat Conference leader Syed Ali Gillani, Paracha said leaders like Gillani faced innumerable hardships for the cause of freedom but never gave in. JI's candidate for National Assembly in the upcoming elections, Mian Muhammad Aslam said "the Kashmir struggle is not merely a struggle for a piece of land.

It concerns the future of over 10 million people of Kashmir and their right to self-determination," adding that unless India resolved the seething dispute according to United Nations resolutions, relations would never improve.




Rallies in Balochistan

Kashmir Solidarity Day was observed with fervour in different parts of Balochistan, including the provincial capital Quetta.

Rallies organised by the provincial chapters of the Jamatud Dawa, Al Sunnat-wal-Jamaat and Jamat-e-Islami converged at the Quetta Press Club after marching through different routes of the city.

Speakers at the public gathering denounced India for its illegal occupation of Jammu and Kashmir for the past 65 years. They recounted the excesses inflicted upon the peace loving people of Kashmir and demanded the holding of a referendum for the solution of the dispute, as pledged in UN resolutions, to ascertain the will of the people of Kashmir.

Blaming previous rulers for neglecting the Kashmir issue, participants said that granting MFN status to India brought shock and dismay to the people. Speakers prayed for the freedom of Kashmir and said the day was not far when the wishes of the people of Kashmir would be answered.

Published in The Express Tribune, February 6th, 2013.
COMMENTS (5)
Comments are moderated and generally will be posted if they are on-topic and not abusive.
For more information, please see our Comments FAQ