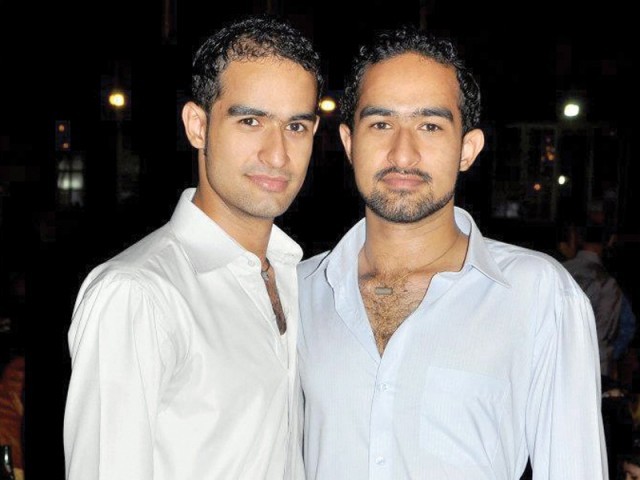 ---
KARACHI:



As Haider Qadri, one of the twins injured in an armed attack near his house in Lyari, slowly inches back to recovery, the momentum of the investigation into the incident has begun to pick up, and so has the wrath it has generated.




Haider, 23, and his twin brother, Jamal, were shot at by men on motorcycles as they stopped at a tyre puncture shop near their home on January 2. While Haider was fortunate enough to survive the incident, Jamal wasn't as lucky.

For the first time since the attack, their father Dr Abdul Ghafoor Qadri, elder brother Fazil Hussain, relatives, friends and neighbours participated in a protest organised outside the press club on Saturday. Carrying banners bearing pictures of Haider and Jamal, the protesters shouted slogans against attacks on students.  All the banners had the same slogan: "Do humans live only in Defence and Clifton?"

The protesters demanded the Chief Justice of Pakistan take suo moto notice of target killings, adding that the case of Qadri brothers should be taken up the same way Shahzeb Khan one was.

Muttahida Qaumi Movement (MQM) leader Raza Haroon, who was one of the participants, pointed to the way that institutions are selectively responding to murder cases, based on the victims' social status. "Humans live in all parts of Karachi. It is clear that the poor are being denied justice."




The MQM leader also compared the twins' case to that of Shahzeb Khan. "[Law enforcers] take action and can even arrest killers within hours when the apex court takes notice," he said.

Advocate Qadar Brohi and Mujahid Hussain, who were among the participants, felt the same way. "The discrimination is obvious. Only influential persons get justice in our country. Are politicians, officials and judges working only for rich people? Justice means equality."

The Awami Jamhoori Party also held demonstrations on Saturday in different cities across the province, including Hyderabad, Mirpurkhas, Qamber-Shahdadkot, Dadu, Larkana and Khairpur.

Investigation

Dr Qadri told The Express Tribune that, "The police are finally cooperating [with me] and investigating the brutal attack on Jamal and Haider." They have met his sons' friends and neighbours, assuring him that the attackers would be traced soon.  He said that on Thursday, he met high-ranking police officials and shared information about the twins' activities and friends. "They recorded my statement in detail and asked if either of my sons had ruffled any feathers." He added that Haider was in a stable condition and would soon be able to speak. "He is being given liquid orally instead of intravenously, even though one side of his tongue is still wounded."  Nobody knows as yet why the twins were attacked. The officer investigating the case, Islam Gul, said that law enforcers were meeting the residents, trying to get to the bottom of the mystery. "We're looking into all angles and are refraining from guesswork."

Published in The Express Tribune, January 13th, 2013. 
COMMENTS (10)
Comments are moderated and generally will be posted if they are on-topic and not abusive.
For more information, please see our Comments FAQ