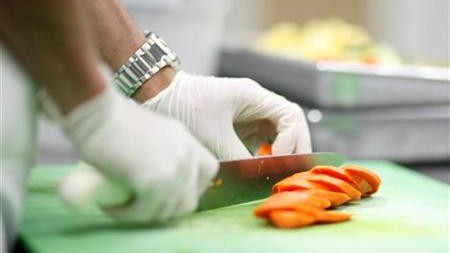 ---
ISLAMABAD: If you're hoping to slim down, try not to focus on the healthy nature of that low-fat, low-calorie salad you ate for lunch. A new study reports that calling a food 'Healthy' may make you hungrier.

To explore the impact of perceptions about the health content of food and how full it made a person feel,  researchers in the US conducted several experiments, Health News reported. In the first experiment, the researchers asked 51 college students to sample a chocolate-raspberry protein bar. Students were either told they were sampling "a new health bar," containing lots of protein, vitamins and fiber, or a "chocolate bar that is very tasty and yummy with a chocolate-raspberry core."

Later, when asked to rate their hunger, those who ate the "health" bar rated themselves as hungrier than those who ate the identical bar described as "tasty".

A third group of students was asked to examine the bars and rate their hunger but they did not eat either bar. Their hunger levels were about the same as students who ate the bar described as "yummy"  meaning that eating the "healthy" food actually made them feel hungrier than if they hadn't eaten a bar at all, the researchers said.

For dieters, a similar decision-making process may be involved when they choose a salad instead of a burger and fries at a restaurant, only to go home and eat a big dessert. Eating healthy foods may allow us to believe we have made progress toward health goals but trick us into thinking we are hungrier than we actually are.

In a second experiment, 62 participants were given a piece of bread alternately described as being low-fat and nutritious or "tasty, with a thick crust and soft center." After sampling the bread, participants were offered a snack of pretzels, which are considered a neutral food neither healthy, like carrot sticks, nor particularly pleasurable, like chocolate.

It was found that the participants who sampled the "healthy" bread ate more pretzels afterward than those who sampled the "tasty" bread, though those who said they were concerned about watching their weight tended to eat fewer pretzels than those who were relatively unconcerned.

In a third study, researchers offered students a choice of chocolate- raspberry protein bar or a honey-peanut protein bar, with one randomly described as healthy and the other as tasty. When given the chance to decide for themselves if they wanted the healthy choice or the guilty pleasure, there was no difference in hunger levels afterward between the two groups.

The findings indicate that the effects of healthy eating depend on the consumer's perception that healthy eating is mandatory; therefore, only imposed healthy eating made consumers hungrier, whereas freely choosing to eat healthy did not increase hunger.