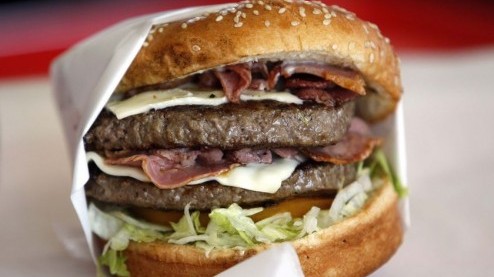 ---
KARACHI: Karachiites, pertaining to all age groups,are registered to be getting increasingly overweight, with constant decline in consumption of fruits and vegetables and regular intake of sweetened drinks and fast food.

Researchers making their respective presentations at the launching ceremony of the Pakistan Obesity Society, at Dow University of Health Sciences (DUHS), here on Saturday said the situation is not very difficult in other urban centers of the country.

Dr. Khalid Imam, an endocrinologist by profession and Dr. Iqbal Ahmed in their respective presentations mentioned with concern that despite high levels of poverty and rampant malnourishment among masses food intake has emerged to be a favorite pastime of people in general.

This, they said was in a situation where there were little opportunities for healthy recreational activities for people, particularly children and youth.

"Food indulgence has not only emerged as a recreation but is gradually promoted as a culture," commented Dr. Iqbal Ahmed with deep concern. Dr.Khalid Imam in his recently conducted study in Karachi focussed on children aged between 8-10 years said 9.8% were overweight, 4.3% were obese.

Interview of these kids revealed that 80% of them had poor intake of fruits and vegetables while 40% of them consumed sweetened drinks and fast food daily on daily basis. The endocrinologist discussed in detail the consequences of obesity in social as well as economic context.

Dr. Imam said, obesity is a serious and prevalent disorder andthat people, specially women are at more risk of cardiovascular induced morbidity and mortality besides diabetes and depression.

He said weight maintenance requires on going care and that lifestyle intervention is the first and foremost step while pharmacological intervention is required for the selected group.

The Consultant Endocrinologist, Liaqat National Hospital saidAccess, Classify and Treat (ACT) approach was required to fightobesity as otherwise it would drain our resources down in medicalmanagement of diseases that results from obesity. He said losing only 10% of initial body weight can help peopleand result in better life afterwards and this should be done smoothlyover a period of time as quick loss in weight could bring other healthproblems to the person.

Prof. Masood Hameed Khan, Vice Chancellor of Dow University of Health Sciences on the occasion said, "clinical practice guidelines should be designed to help physicians in their care of overweight andobesity."

He said obesity is a growing public health problem that affects millions of people and that recent studies have shown that on average, each person whose death could be attributed to obesity lost nine yearsof life.

Overweight and obesity pose a major public health challenges, said Prof. Dr. Masood Hameed adding that our health care costs havegrown along with our waist lines. Physicians, he said are also advised to determine waistcircumference, which is strongly associated with abdominal fat.

"Excess abdominal fat is an independent predictor of disease riskand waist circumference of over 40 inches in men and over 35 inches in women signifies increased risk in those who have a BMI of 25 to 34.9," he said.

In addition to measuring BMI; healthcare professionals should evaluate a patient's risk factors, such as elevations in blood pressure or blood cholesterol, or family history of obesity-related disease, he said. At a given level of overweight or obesity, patients withadditional risk factors are considered to be at higher risk for healthproblems, requiring more intensive therapy and modification of any risk factors.

Dr. Iqbal, General Secretary of Pakistan Obesity Society (POS) said that there are no easy solutions to the problem but progress ispossible. There is scope to do more to promote healthier lifestyles and improve services to the people whose health is at risk from excess weight. That rate of obesity was increasing rapidly globally, the female were remarkably affected.

Over weight produced important social and economical consequences which might be due to discrimination, said Dr. Iqbal adding that excessive weight had disease risk which would be a burden on economy.

The senior physician warned that obesity in female is fast emerging as a serious social issue and it was critical that we shouldtake effective steps to contain and reduce the enormous burden ofobesity on our nation.

He said POS is a registered body of Pakistan with a vision to bethe leader in understanding, preventing and treating obesity and in improving the lives of those affected.

The Obesity Society has been committed to encourage research onthe causes and treatment of obesity and is keeping the medical community and public informed of new advances.

Obesity, he said is a risk for a number of chronic diseases, including diabetes, cardiovascular disease, and some cancers, reversing this epidemic required a multifaceted and coordinated approach that uses policy and environmental change to transform communities into places that support and promote healthy life style choices for all people.