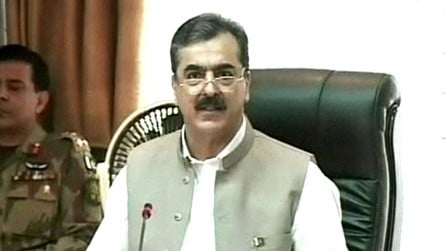 ---
Pakistan's role as a frontline state in the war against terror has had serious implications on every sphere of national life, with a serious impact on the economy, Prime Minister Syed Yousaf Raza Gilani said on Tuesday, adding that the threat of terrorism could not be addressed unless its root causes were addressed through development.

Taking to the International Crisis Group (ICG) president, Louise Arbour, and other members of the group at the Prime Minister's Secretariat, Gilani said that the country's armed forces and security personnel had rendered great human sacrifices. Highlighting the impact of militancy on Pakistan's economy, he said that militants on the run from Fata and Swat were now targeting urban centres.

He said the foreign investment in Pakistan has declined considerably and economic activities have come under pressure. Despite such serious constraints, Pakistan remains resolutely committed to take this war to its logical conclusion, rooting out the threat of terrorism and militancy from its soil, he added. Dilating upon his government's persistent efforts in this regard, he said that the government will take all political forces along in major decision-making processes to develop and strengthen democratic institutions.

Highlighting the government's achievements such as the unanimous adoption of the 18th Amendment, according autonomy to Gilgit-Baltistan, and initiating work on the Balochistan reforms package, he said all institutions needed to work within the prescribed parameters to avoid friction and thwart attempts to subvert democracy in the future.

The government, he said, was forced to divert its meagre resources meant for development to rehabilitation and reconstruction of infrastructure in areas affected by militancy.

The ICG chief lauded the prime minister and his government's reform agenda. She appreciated the commitment of the government and people of Pakistan as well as huge sacrifices of the security forces in the war against terror.

The International Crisis Group, through its reports and analyses of the situation in Pakistan, will continue to mobilise international opinion and support to help the country overcome its difficulties.

Published in The Express Tribune, July 7th, 2010.
COMMENTS (2)
Comments are moderated and generally will be posted if they are on-topic and not abusive.
For more information, please see our Comments FAQ