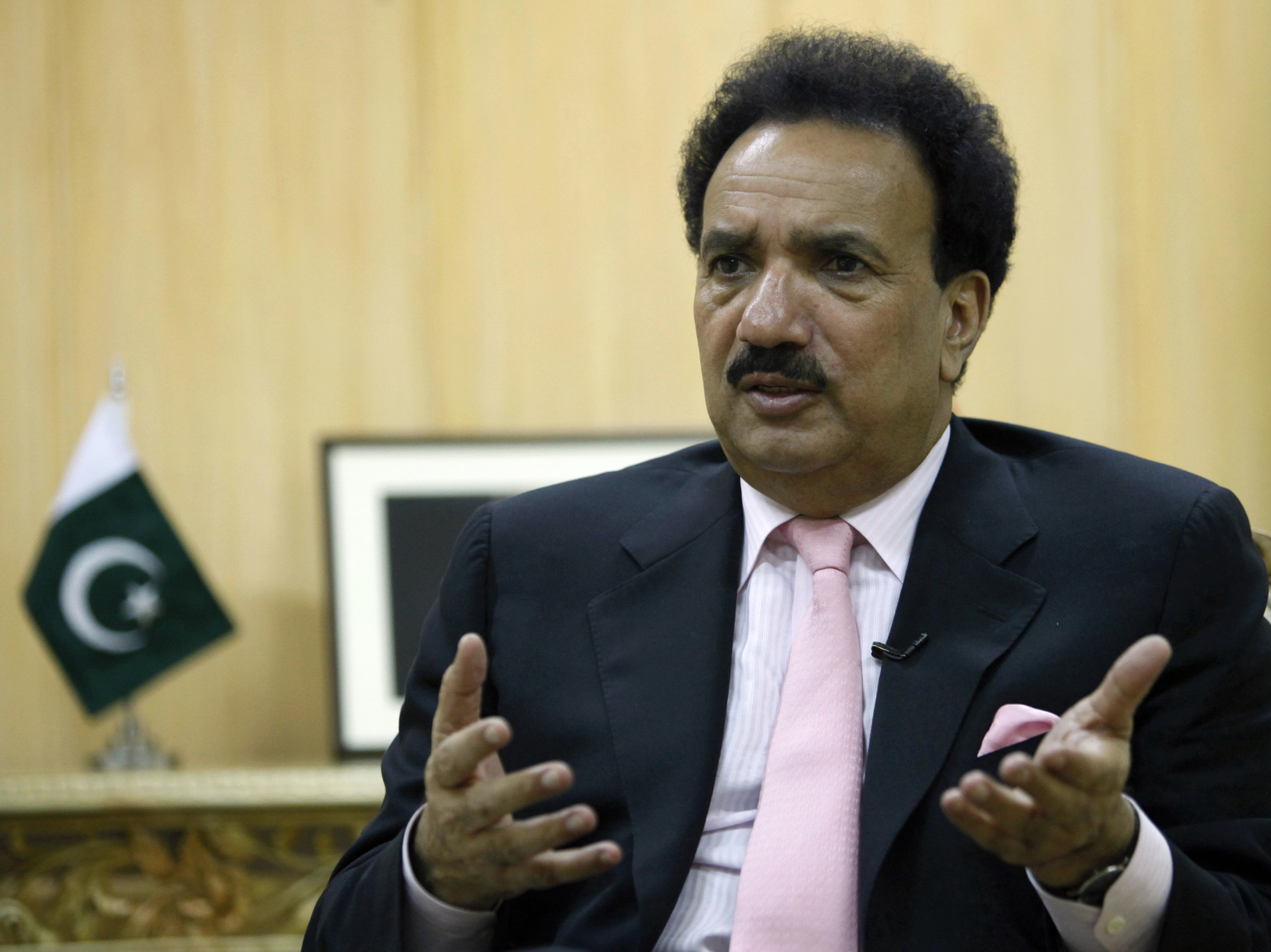 ---
ISLAMABAD: Interior Minister Rehman Malik on Saturday scotched allegations that he had stopped any intelligence agency from swapping information with the Punjab government and asked Chief Minister Shahbaz Sharif to step down from office if he could not authenticate his claim.

He insisted that as the interior minister he had never stopped any law enforcement agency or any individual from sharing information with the Punjab government.

Talking to media persons on Saturday, Malik said that the extremists wanted to spark a war and fuel ethnic tensions in the country. The minister said a judicial inquiry could be held into the Data Darbar blasts. The minister went on to say that he would continue issuing statements against the outlawed outfits and take stringent measures against these organisations. Malik further said that the intelligence agencies had alerted the Punjab government that terrorists could strike any mosque or Imambargah.

According to the information passed on by the intelligence outfits, a militant commander from Punjab and three terrorists from Khyber Pakhtoonkhawa were indicated in the plot to carry out these activities, the interior minister said.

"The provincial chief minister should not be trapped by the elements provoking him," Rehman Malik said. If the chief minister has any problem, the minister said, he could personally bring it to his notice.

"According to my viewpoint, it would be an offence if anyone does not share any information about the attack in Punjab or any other province," Malik commented. He said a few people were making lame excuses to cover up their failures.

He said the allegations levelled by Shahbaz Sharif were not based on reality as the process of national reconciliation was still continuing therefore the perception that "I am spreading hatred among the provinces is wrong".

He held that the provinces should ensure the implementation of the directives of the federation while there was need to enhance the capabilities of the security agencies in Punjab.

A high-level meeting will be held in the interior ministry regarding protection and prevention of attacks on religious places. According to sources, the interior minister will preside over the meeting while people from all segments of society would attend the meeting.

The sources further said that a unanimous strategy regarding awareness among masses against terrorism and prevention of terrorist attack on religious places would be evolved. This strategy would be presented for approval during the inter-provincial meeting to be headed by the prime minister on Monday.

Published in The Express Tribune, July 4th, 2010.
COMMENTS
Comments are moderated and generally will be posted if they are on-topic and not abusive.
For more information, please see our Comments FAQ