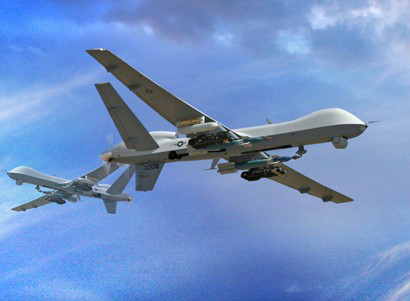 ---
A pilotless US drone killed at least eight suspected Punjabi Taliban militants and injured two others in Wana sub-division of the South Waziristan tribal agency on Tuesday, sources said.

The Express Tribune has learnt that the attack came around 4:40 am on Tuesday when a US drone fired three missiles on a house in Ghwakhwa village in Wana.

However, AFP quoted a security official as saying that missiles had been fired at a compound belonging to militant commander Maulana Halimullah.

Sources said the attack also destroyed two vehicles and the house in which the alleged militants were staying. The Punjabi Taliban were using the house as their hideout and the dead and the injured belonged to the same group, the sources added. It is said that there might be foreigners among the dead militants, but it is not confirmed.

This was the second attack in the South Waziristan during the past two months. On May 28, a drone attack had killed at least 11 persons in the Angor Adda area bordering South Waziristan.

The tribal region, which was earlier regarded as the nerve centre of militancy was cleared by the military after it launched Operation Rah-e-Nijaat (Path of Deliverance) in October last year.  On Saturday, a drone attack had killed two militants and injured another in North Waziristan.

Around 950 people have been killed in more than 100 drone strikes since August 2008, including a number of senior militants.

The US military does not, as a rule, confirm drone attacks, but its armed forces and the Central Intelligence Agency operating in Afghanistan are the only forces that deploy pilotless drones in the region.

Meanwhile in Kurram Agency, at least 11 suspected militants were killed and four injured in an air strike on militants' vehicles in the Falo Ghanday area.  One vehicle was destroyed while the other two were damaged partially as a result of the attack. Following the attack, security forces cordoned off the area and started a search operation. (With additional input from Wires)

Published in The Express Tribune, June 30th, 2010.
COMMENTS
Comments are moderated and generally will be posted if they are on-topic and not abusive.
For more information, please see our Comments FAQ