 ---
Joyland, Pakistan's official submission to the Oscars, did not make it to the nominations list for the International Feature Film category at the 95th Academy Awards, despite being shortlisted. On Tuesday, actor Riz Ahmed announced the official nominations during a live broadcast with fellow artist Allison Williams.
Irrespective of the setback, many artists have come forward to lend their support to the Ali Junejo-starrer, including Indian filmmaker Onir who was the first to express his disappointment.
"I'm very disappointed not to see Joyland in the final nomination for the International Film Category for The Academy Awards. Joyland remains my favourite film this year. Congratulations to the entire team for such a glorious journey!" penned the Shab director, tagging Sadiq's Twitter handle.
Actor-cum-writer Aseem Chhabra also lauded Sadiq's efforts of pushing his film on the global front, despite the multiple challenges he encountered along the way. He said, "Both India's and Pakistan's official entries for the best international feature Oscar didn't get nominated today. But Pan Nalin and Saim Sadiq worked really hard to promote their films. A huge congratulations to both the Last Film Show and Joyland teams for making it this far."
As the news circulated online, Pakistani celebrities also shared their two cents about Joyland. "The fact that Joyland didn't make it to the Oscars is very disappointing. Your film is beyond the Oscars. Take a bow," stated Habs director Musaddiq Malek.
Model-turned-host Frieha Altaf also encouraged Sadiq and his team, asking them to be delighted with their countless victories. She said, "I am disappointed that Joyland wasn't nominated for an Oscar but I still want to celebrate the whole team and the movie! Please hold your head up high as you were shortlisted and that has made us proud!"
Pakistani-American actor Iqbal Theba recommended the film to his followers too. "I am so disappointed that Joyland was not nominated for an Oscar. Watch it if you get a chance," remarked the Glee actor.
Prior to the Oscar nominee announcements, a Twitter post curated by TIFF read, "What Oscar Nominations are you manifesting this morning?" To this, actor Osman Khalid Butt responded with "Joyland!"
Taking to Instagram, actor Adnan Malik hailed the Pakistani drama film for its brilliant story. "Well, this is disappointing. The heart swells with what you've achieved through tender, evocative and groundbreaking storytelling!" remarked the Cake star.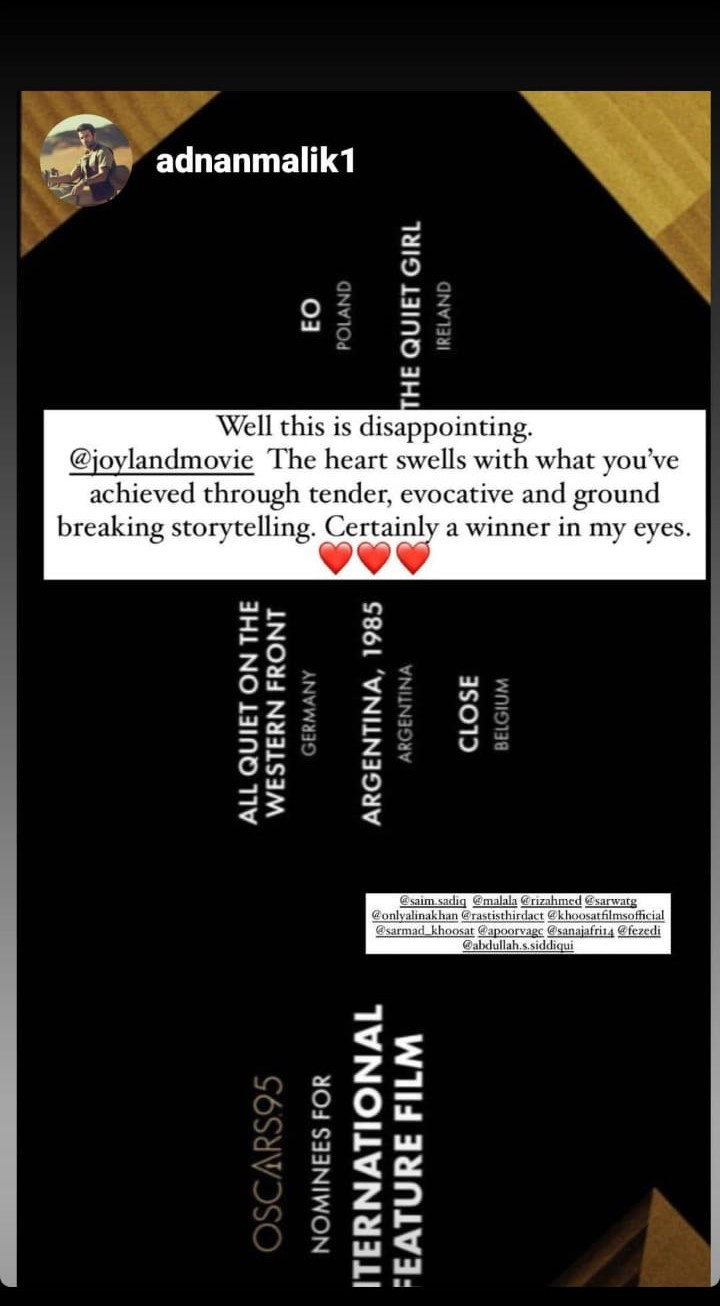 Filmmaker Iram Parveen Bilal also detailed a lengthy encouraging message to Sadiq and his team. She noted, "Team Joyland, what a journey and a fight! I'm so proud of you. You people have already achieved history! And boy, this level of global distribution is insane, and that's the biggest achievement of them all! A near-perfect feature film! Let your work roll out to its audience and continue to celebrate this giant feat of a first feature."
Other Pakistani celebrities such as Meesha Shafi and Arooj Aftab also gave a nod to the feature film for its roaring success. While Shafi chose to share an Instagram Story wishing Saim all the best before the Oscar nominations were announced, the Mohabbat crooner shared a news piece which lauded Joyland for grossing over $1 million at France's box office. "Winning all over!" read Aftab's caption on the post.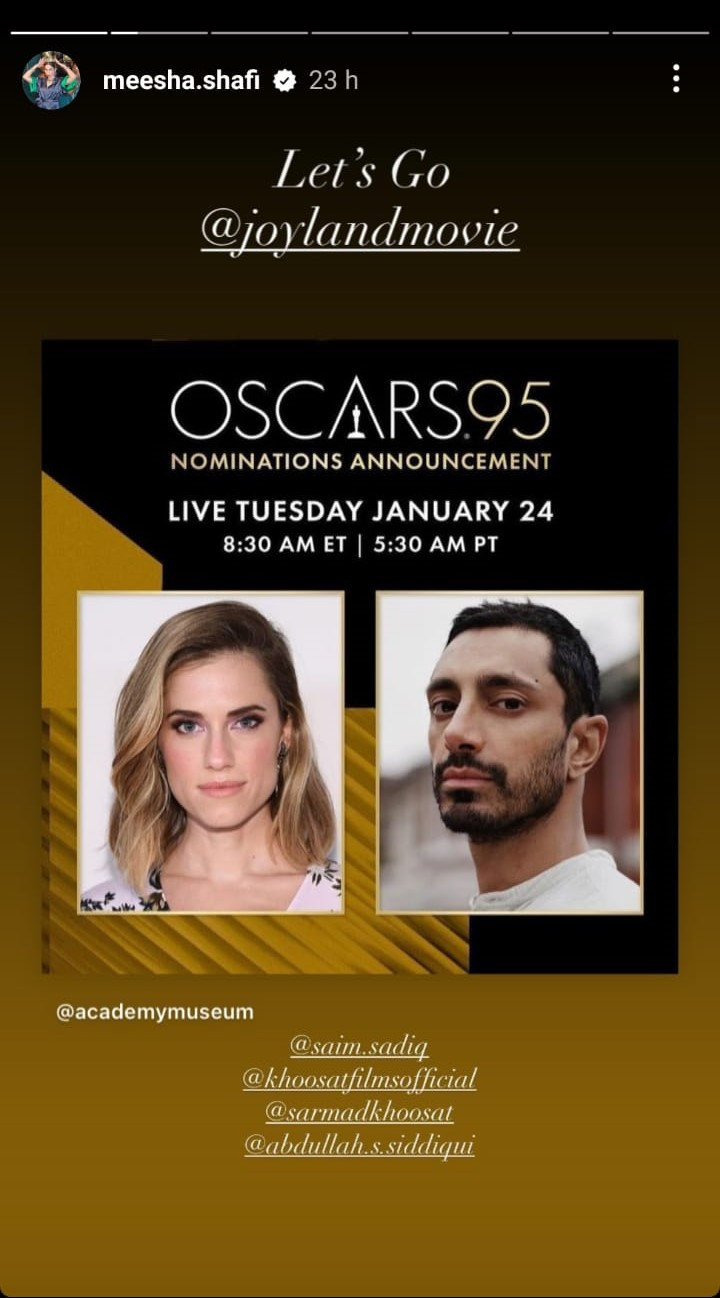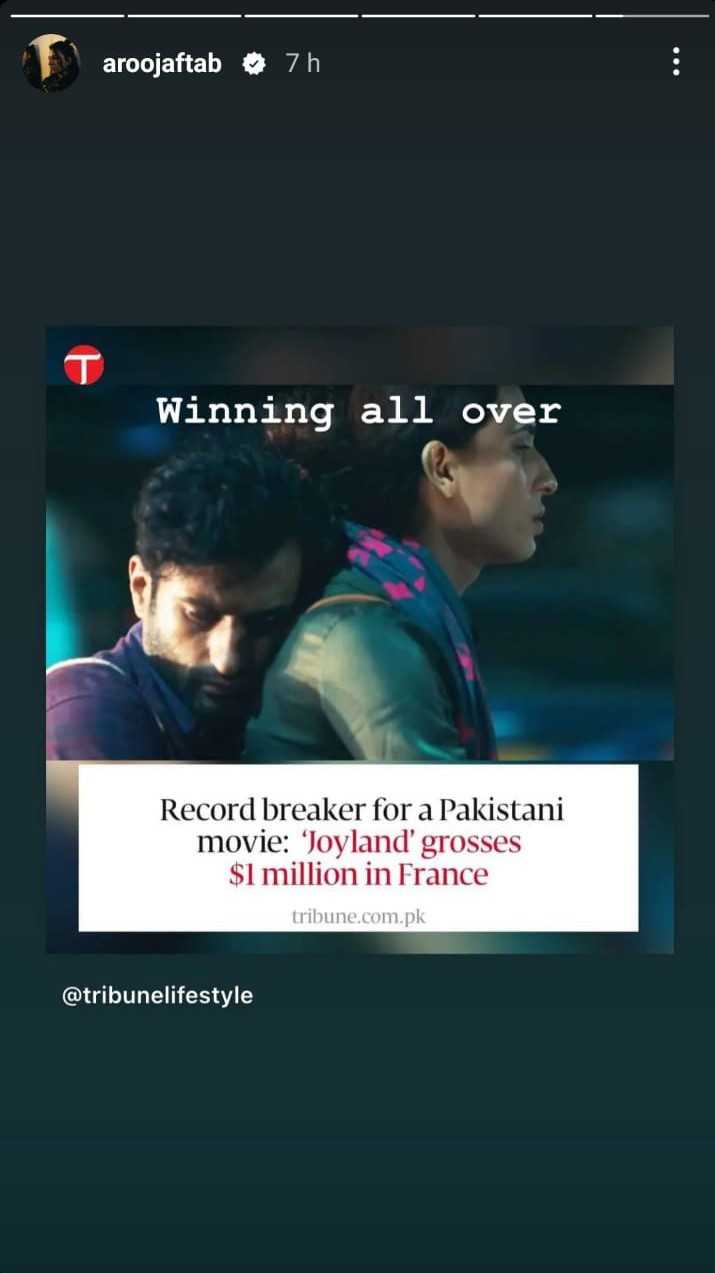 Have something to add to the story? Share it in the comments below.
COMMENTS
Comments are moderated and generally will be posted if they are on-topic and not abusive.
For more information, please see our Comments FAQ