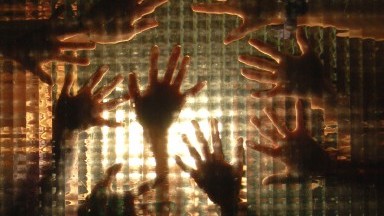 ---
GUJRAT:
Riots erupted in the district's central jail leading to arson, hostage-taking, shelling, firing of warning shots and injuries to several people.
Fortunately, no casualty took place despite the situation being highly volatile.
According to sources, a number of prisoners went berserk over alleged ill-treatment meted out to them by the jail wardens besides the absence of basic facilities in the District Jail of Gujrat.
The furious prisoners held the assistant superintendent of jail and eight other policemen hostage for many hours.
The sources said that the cause behind the eruption of the riots was an incident in which harsh words were exchanged between a prisoner and a jail official over sending the prisoners back to their barracks at 5pm against the routine in the jail.
During the argument, the jail staff lost his temper and slapped the prisoner.
The other prisoners got angry with the action of the prison staff and started rioting.
The hitherto unidentified prisoners took eight officials of the jail hostage. Those taken hostage included the Assistant Superintendent of Jail, Khushi Muhammad.
Upon being informed, the DSP of the City Police Station, Pervez Gondal, along with a contingent, arrived at the jail where they were pelted with stones by the rioters, injuring the DSP and two constables.
At this point, police resorted to teargas shelling to control the situation.
Some of the rioters climbed up the stairs and got to the roof of the barracks to get a vantage point. Some other rioters set various sections of the prison on fire.
The act of arson by the rioters led to the police upping the ante. This was the stage when the first gunshots were fired by the police in their bid to make the rioters surrender.
The situation clearly called for more senior staff of the police to go to the venue and supervise the operation to deal with the trouble-makers.
The DIG of Prisons, the RPO of Gujranwala, Munir Masood Marth, and the Assistant Commissioner of Gujrat, Ahsan Mumtaz, rushed to the jail.
The administration started negotiating with the hostage takers. However, the talks failed.
As dusk descended over the city, the jail was cordoned off by contingents summoned from the Gujranwala Division.
Soon police managed to secure the release of hostages. Three of the hostages, Azmat Ali Shah, Sohail and Aftab, were subjected to torture by the rioters. Injuries were inflicted on their heads, arms and faces by a sharp object.
Around 3:00 a.m. on Tuesday, i.e. 10 hours after the riots began, negotiations between the administration and the rioters succeeded when the latter were given the assurance that their grievances would be addressed.
After the process of recounting, the prisoners were sent back to their barracks.
Published in The Express Tribune, January 25th, 2023.
COMMENTS
Comments are moderated and generally will be posted if they are on-topic and not abusive.
For more information, please see our Comments FAQ