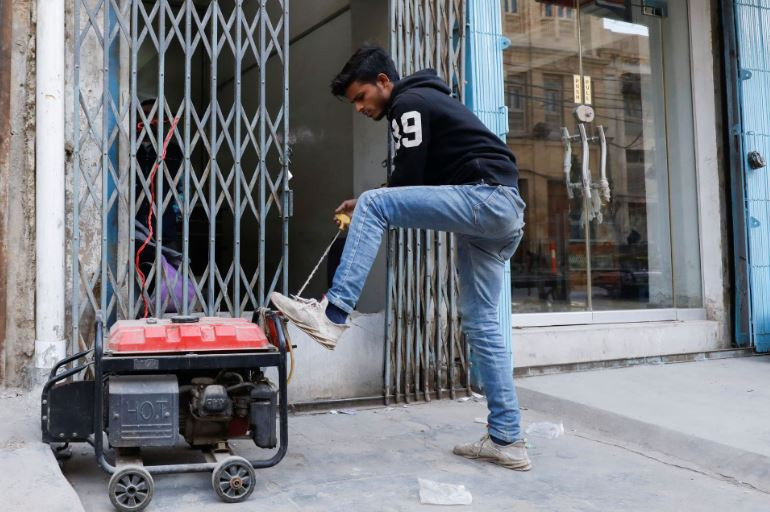 ---
HYDERABAD:
The power breakdown, which hit the entire country, kept Hyderabad region without electricity for more than 13 hours, affecting trade, industry as well as the domestic chores, while officials claimed they do not know what caused the fault.
The restoration started at 9pm in a few electric feeders of 11 KV, but most parts of the city remained without power by the time of filing this news.
The spokesman of Hyderabad Electric Supply Company(HESCO) Sadiq Kubar told The Express Tribune at 9pm that the company is yet to receive power supply from the national grid.
"[We] still have the same position," he replied to a query.
He updated at 10.23pm that the power supply to Qasimabad, Halanka and Matiari grid stations has been partially restarted. However, he clarified that 500KV line which powers HESCO from Jamshoro powerhouse is still at fault.
"We have resumed supply to three to four feeders of 11 KV in each of these three grid stations."
He did not disclose how long will it take the company to fully restore the supply.
A HESCO official, who requested anonymity, claimed that the National Transmission and Dispatch Company (NTDC) could not trace the fault by the sunset. However, his information cannot be verified from the concerned officials of the NTDC.
An official of the Water and Sanitation Agency (WASA) said if the power supply is not restored by Monday night, the citizens will begin to suffer water shortage from Tuesday.
"Already many citizens, especially those residing in the apartments have started complaining of water scarcity."
Daily life disrupted
Over half a day long outage also affected the households. Thanks to the cold breezes amid the chilling winter which gripped Hyderabad on Tuesday, the people did not feel even the need of fans.
The markets remained open but business activity appeared lethargic. Businesses like lathe machine, tailors and laundry particularly suffered.
Irfan Ahmed, a tailor on Wadhu Wah Rad in Qasimabad, told that they could not stitch a single suit since the morning.
An owner of a factory manufacturing cartons in Hyderabad SITE area told The Express Tribune that he kept powering the factory through the diesel fired generator.
"But by around 2 pm I decided to close the factory because of the high cost of diesel fuel."
Hyderabad Chamber of Small Trade and Small Industry (HCSTSI) President Farooq Shaikhani said the nation-wide breakdown has hit the country for the second time in three months.
"It reflects the serious weaknesses in our transmission system which haven't received the government's attention." He asked the government decentralise the power supply system by creating separate grids in all provinces
COMMENTS
Comments are moderated and generally will be posted if they are on-topic and not abusive.
For more information, please see our Comments FAQ