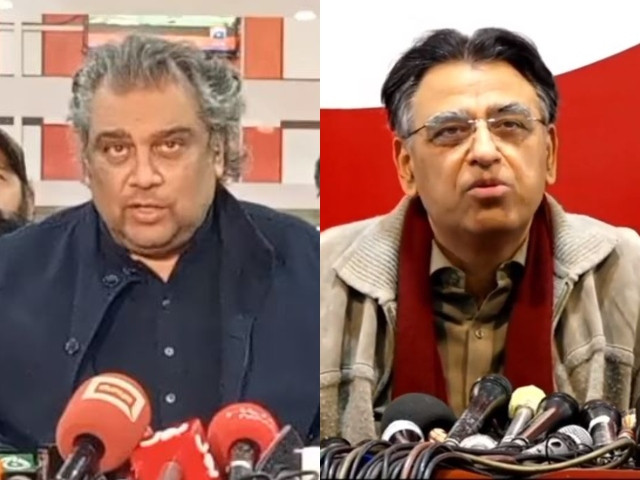 ---
Pakistan Tehreek-e-Insaf (PTI) on Thursday continued its criticism of the Pakistan Peoples Party (PPP)-led provincial government and the second round of local body elections in Sindh, demanding the polls be declared null and void.
PTI Sindh President and former Federal Minister Syed Ali Haider Zaidi took to Twitter to express his dismay at the first information report (FIR) registered in Karachi against his party workers
Terming the reports registered with the police against the PTI an "attack" on the party, he pointed to the apparent irony in the matter claiming they were the victims.
Yesterday, the workers of PTI and PPP clashed outside the deputy commissioner's office in Keamari, pelting stones at each other.
At least three persons, including two media persons, were reportedly injured during the clash.
Initially, the PTI leadership accused the PPP leaders of attacking its peaceful workers. They shared a video of the clash claiming that former PTI federal minister Ali Zaidi was also hurt.
Read JI won most seats in Karachi local body elections, claims Hafiz Naeem
Meanwhile, PTI General Secretary Asad Umar while speaking to journalists alleged that the ruling PPP, which emerged as the dominant party in the elections, had "forcefully stolen people's mandate through rigging".
He further defended the PTI leader Amjad Afridi who was arrested alongside other party activists after the police had claimed that weapons, bullets and ballot papers were recovered from their custody.
According to the police, Amjad Afridi is accused of torturing the presiding officer of UC-13 Naval Colony Ward No1 Allied School Dr Sami.
However, Umar dejected the allegations claiming that Afridi had attempted to "reveal how a thousand votes had been brought to the polling station in a video".
"Amjad Afridi was tortured and his brother has lost an eye," the PTI leader further claimed.
Asad Umar held that the polling staff was "pressurised" and the Election Commission of Pakistan (ECP) "appeared powerless" in the matter.
"When the people protested the usurpation of their mandate, the police arrested PTI workers," he added.
"We reject this election in Karachi and demand that it be declared null and void," said the PTI leader.
Read More PPP set to announce Hyderabad mayor
It may be noted that the Sindh Government has rejected Imran Khan's allegations of harassing PTI candidates in the local body elections.
Sindh Labour and Human Resources Minister Saeed Ghani had claimed that the local government elections took the wind out of PTI's balloon.
"People of Karachi have proved utterly wrong the impression that the PTI was a popular political party in the provincial capital," he had said.
COMMENTS
Comments are moderated and generally will be posted if they are on-topic and not abusive.
For more information, please see our Comments FAQ