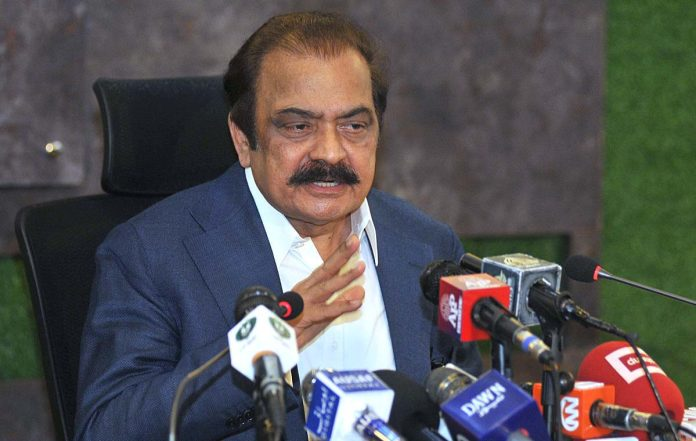 ---
Interior Minister Rana Sanaullah has warned the Pakistan Tehreek-e-Insaf (PTI) that the Centre can impose governor's rule in Punjab if Chief Minister Pervaiz Elahi-led government takes any unconstitutional step in the province.
Speaking to the media in Lahore on Tuesday, Sanaullah said that according to the Constitution Pervaiz Elahi will not remain chief minister of Punjab if he did not seek the confidence vote on Governor Balighur Rehman's instructions.
He asserted that CM Elahi did not have required numbers for the trust vote, and challenged him to obtain the confidence vote from the provincial legislators if he enjoyed the support of the majority of the lawmakers.
Sanaullah said Hamza Shehbaz is the unanimous candidate of PML-N and PPP for the post of Punjab chief minister.
"I am not aware that there are any ongoing negotiations with Chief Minister Elahi but if he takes any unconstitutional step, the government can impose governor's rule which will remain in place for six months," he remarked.
Sanaullah said that the snap elections in Punjab would have only happened if the assembly was dissolved.
"Now they [PTI] are running away from dissolving the assembly of Khyber-Pakhtunkhwa."
Also read: Opposition noisier but less effective in Punjab Assembly
"[PTI chief] Imran Khan is working on enemy's agenda and his workers are at the peak of misguidance," he added.
Sanaullah said all stakeholders including establishment and judiciary as well as the nation wanted stability in the country except Imran Khan who he said will not get any relief from courts.
His statement came a day after the parliamentary leaders of the Pakistan Muslim League-Nawaz (PML-N) and the Pakistan Peoples Party (PPP) put their heads together to reclaim Punjab.
A meeting of the joint parliamentary party was held on Monday in which more than 160 members were in attendance. Sources said federal ministers Rana Sanaullah, Khawaja Asif, Azam Nazeer Tarar and Special Assistant to Prime Minister Ataullah Tarar were also present. Federal Minister for Railways and Aviation Khawaja Saad Rafique, the senior party leader, who presided over the meeting, admitted that PTI Chairman Imran Khan was doing "good politics" with them.
He said that Hamza Shehbaz was not active due to which the PML-N was facing difficulties in Punjab. He added that he asked the prime minister to ask Hamza to form a strong opposition in Punjab.
"If we do not get a place now, we would not even get a place to put our feet in Punjab," sources quoted him as telling the participants of the meeting. "If we get Punjab for four to five months, we will do a lot."
Punjab Assembly Parliamentary Leader Hasan Murtaza said that they need to be proactive otherwise the PTI would take things away from them.
COMMENTS
Comments are moderated and generally will be posted if they are on-topic and not abusive.
For more information, please see our Comments FAQ