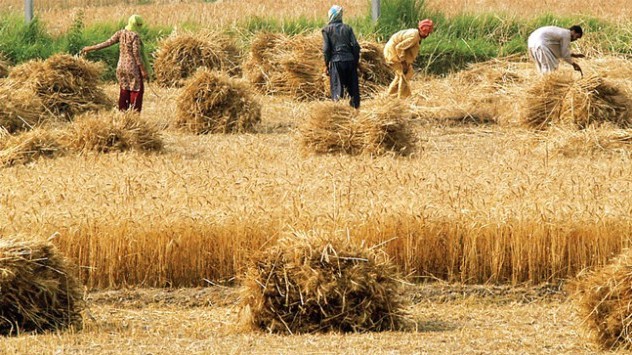 ---
ISLAMABAD:
Federal Minister for National Food Security and Research Tariq Bashir Cheema has announced that there is no shortage of wheat in the country and the strategic reserves are satisfactory.
"There is no dearth of wheat in any province. Provinces have sufficient stocks, but they are not releasing them," the minister affirmed while speaking at a press conference on Wednesday.
He said that he would ask the prime minister to approve the provision of wheat to flour mills in Islamabad through Pakistan Agricultural Storage and Services Corporation (Passco).
"The daily requirement of 40 flour mills in the capital is 38,000 bags, each weighing 20 kg. Punjab government is not providing enough wheat to these flour mills, which has resulted in a shortage of 17,000 bags per day," he said.
Since millers are buying wheat from open market to cope with shortage, the price of flour is going up.
The minister pointed out that Punjab had failed to meet its wheat procurement target and then approached the federal government to bridge the shortfall. He asked the Punjab government to provide the mills in Islamabad with the required quantity.
"We have imported wheat to provide to provinces. We will meet the demand of provinces if they approach us," he stressed.
According to the minister, there are 38 points in Islamabad where the government is providing wheat flour at a low price to consumers.
Turning to the delay in announcement of wheat support price by the centre, Cheema blamed the Sindh government for setting a "very high" support price at Rs4,000 per 40 kg.
"The issue will be settled soon in a meeting between Prime Minister Shehbaz Sharif and Foreign Minister Bilawal Bhutto-Zardari."
As after the 18th Amendment, prices of essential items were controlled by the provincial governments, he stressed that provinces should take measures to control prices and ensure food security.
He called on the provinces to take action against the flour mills grinding wheat at less than their capacity, which was leading to artificially high prices.
The minister emphasised that after the National Finance Commission (NFC) Award, the provincial governments had the financial resources, adding "if they can enhance their procurement targets, then they should".
Published in The Express Tribune, January 5th, 2023.
Like Business on Facebook, follow @TribuneBiz on Twitter to stay informed and join in the conversation.
COMMENTS
Comments are moderated and generally will be posted if they are on-topic and not abusive.
For more information, please see our Comments FAQ