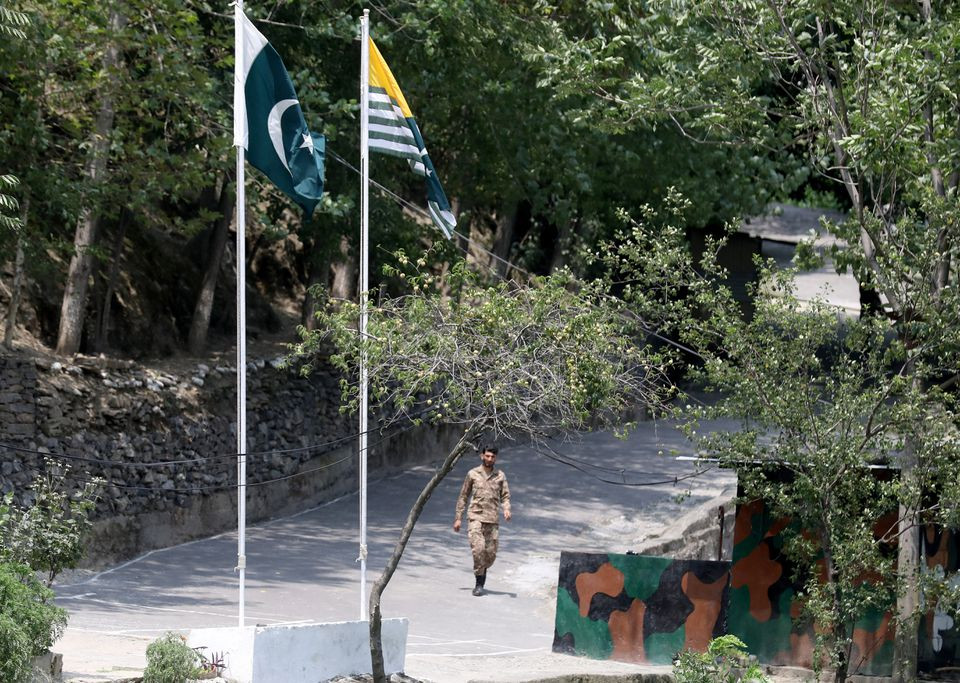 ---
UNITED NATIONS:
Kashmiris on both sides of the Line of Control and all around the world will observe the Right to Self-Determination Day on Thursday (tomorrow), with the pledge to continue their liberation struggle till it reaches its logical conclusion.
According to Kashmir Media Service, call for observance of the day has been given by the All Parties Hurriyat Conference (APHC). The day will be marked by various activities including protest demonstrations, rallies, seminars and conferences in Indian Illegally Occupied Jammu and Kashmir (IIOJK), Azad Jammu and Kashmir, Pakistan and in all major capitals of the world to remind the United Nations that it must implement its relevant resolutions to settle the Kashmir dispute to save the Kashmiris from the Indian brutalities.
It was on 5th January in 1949 when the United Nations Security Council passed a resolution supporting the Kashmiris' right to decide their future by themselves under a UN-supervised plebiscite.
The unresolved Kashmir dispute has become a nuclear flashpoint in South Asia. January 05, 1949 resolution provides the base for settlement of the lingering dispute. However, India's continued intransigent attitude had been an impediment in the way of achieving this objective. It is unfortunate that the world body has failed to implement its resolutions, resulting in the continued sufferings of the Kashmiri people.
Also read: PM hopeful for support from friendly countries at Geneva moot
The principles laid down in the communications of India and Pakistan with the UNCIP (United Nations Commission for India and Pakistan) on Kashmir dated December 23 and December 25 and adopted by the Commission, are supplementary to the Commission's Resolution of August 13, 1948. Argentina, Belgium, Colombia, Czechoslovakia and the US were members of the commission. The Resolution was unanimously adopted by the UNCIP on January 05, 1949. Earlier, a ceasefire came into effect between Pakistan and India one minute before midnight of first January 1949, following the agreement arrived at through the Commission's resolution of 13th August 1948.
Today 75 years have lapsed, but no concrete steps have been taken to implement the resolutions of 13th August 1948 and 5th January 1949. The Narendra Modi-led fascist Indian government is using Indian army establishment and dreaded agencies RAW, Intelligence Bureau (IB), National Investigation Agency (NIA) and Enforcement Directorate to unleash every kind of oppression to suppress the people of IIOJK. East Timor and South Sudan were granted freedom by holding plebiscite while people of Jammu and Kashmir are still facing state terrorism at the hands of Indian occupation forces.
The situation in occupied Jammu and Kashmir has become more terrible since August 05, 2019 when the Modi regime revoked the special status of the territory and snatched away all the basic rights and freedoms of the Kashmiri people. Thousands of Kashmiris including APHC Chairman Masarrat Aalam Butt, Shabbir Ahmad Shah, Muhammad Yasin Malik, Aasiya Andrabi and Nayeem Ahmad Khan are languishing in Indian jails and rest are facing hardships due Indian state terrorism in IIOJK.
Meanwhile, a coalition of Kashmir advocacy organisations operating in different parts of the world have expressed solidarity with the people of Jammu and Kashmir, who are observing January 5 as Right to Self-Determination Day.
"Kashmiris will never give in or give up their right to self-determination despite the suffering resulting from the neglect on the part of the UN and the human rights bodies," a statement issued by the Kashmir Diaspora Coalition (KDC) and its international affiliates — World Kashmir Awareness Forum, Washington DC; Kashmir House Istanbul; Kashmir Civitas, Canada; World Kashmir Freedom Movement, London; Tehreek-Kashmir, UK and EU and Kashmir Campaign Global, London.
The statement said, "On January 5, 1949, the UN Commission for India and Pakistan (UNCIP) passed its resolution giving the people right to self-determination. Under this right the people of the state of Jammu and Kashmir were authorised to hold a free and unfettered plebiscite under the UN supervision.
Unfortunately, the Indian state has failed to cooperate with the UNCIP in implementing Commission's explicit mission and its underlying UNSC resolution 47 of April 21, 1948, mandating such a plebiscite in Kashmir.
"Non-compliance of India with the implementation of UN mandated right to self-determination in Jammu and Kashmir and UN's failure to implement its decision over 76 years has led to enormous ongoing suffering on the people of Jammu and Kashmir.
It includes three major wars between India and Pakistan, numerous massacres of Muslims and an ongoing genocide by Indian military, paramilitary and civilian militias. Indian regimes have incrementally hollowed out any internal autonomy granted to Kashmiris.
Also read: Imran moves LHC against ECP proceedings to remove him as PTI chief
Since August 5, 2019, with the abrogation of Article -370 and 35-A by the extremist regime of Narendra Modi has converted Kashmir from an illegal occupation to a fragmented lawless 'Union Territory' with no due process and no system of justice for the indigenous Muslim population.
"Jammu & Kashmir is now undergoing a rapid transition from illegal occupation into an Indian settler-colonialist and apartheid project. It is following the Israeli model with forced demographic change, millions of illegal Hindu importees granted Kashmiri domicile, right to vote, settlement in expropriated and stolen Kashmiri land and jobs.
Local Muslims dwellings are demolished to make space for Indian Hindus. Plans are being made to hold farcical elections to disenfranchise Muslims and win elections. Most Muslim political leaders, intellectuals, human rights defenders, and religious figures are imprisoned, tortured, or killed in custody or fake encounters.
"We appeal to the UN Secretary-General, the UN Security Council, the UN High Commissioner for Human Rights, OIC and international NGOs to support the oppressed people of Jammu and Kashmir to achieve their UN-guaranteed right to self- determination."
COMMENTS
Comments are moderated and generally will be posted if they are on-topic and not abusive.
For more information, please see our Comments FAQ