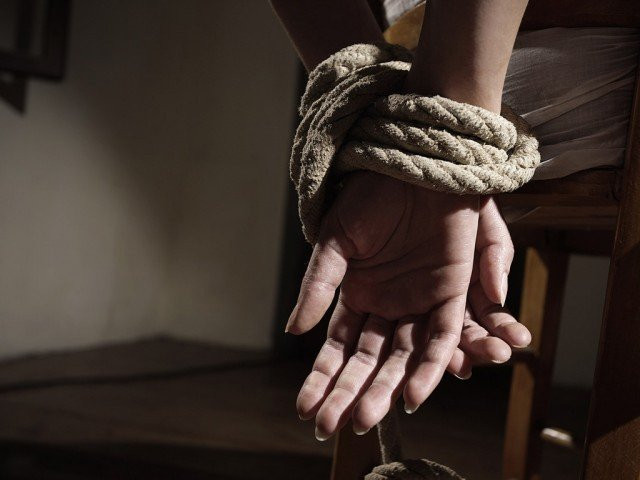 ---
KARACHI:
The Sindh High Court (SHC) on Friday granted bail to a man accused of duping a young girl into marriage before selling her off to human traffickers.
Justice Salahuddin Panhwar-led single judge bench also ordered the Home Department to form a Joint Investigation Team (JIT) to investigate alleged human smuggling to Gulf countries.
The accused, Adnan, pleaded innocence in the case pertaining to abduction of the young girl, named Muskan. He claimed that she was trapped by Sonia who he had married after befriending her on Facebook. He claimed that he had no knowledge of Sonia's business.
Justice Panhwar remarked that Muskan has made shocking revelations. It seems that young girls are being trafficked to Oman. Muskan claimed that she had been sold three times, and there were 14 to 15 other girls where she had been kept. However, she managed to escape.
Also read: Pakistan's human trafficking rating improves as US takes it off 'watchlist'
"This is a serious matter and cannot be left unsolved," the judge said while ordering police and other institutions to thoroughly investigate so that further trafficking of girls could be stopped.
The court ordered the Home Department to form a JIT. The court also ordered the FIA to investigate the issue of human trafficking. The court summoned SSP City and FIA officials at the next hearing which will be held on January 9.
The case of abduction and marriage of Muskan was registered at the Eidgah police station.
Meanwhile, a two-member SHC bench, headed by Chief Justice Ahmad Ali Sheikh and comprising Justice Yousaf Ali Saeed, issued a written order on a second petition against the release of the Oscar-nominated film "Joyland".
According to the order, the petitioner has taken the stance that the film was an attempt to promote homosexuality in the country. The court ruled that unnecessary censorship suffocates society and it is tantamount to stop creativity and growth.
The order states that the petitioner has not pointed out any legal flaw in the certification process of the film. The film has been cleared for release by the Censor Board after thorough scrutiny. No citizen has the right to such objection in personal capacity.
The court cannot rule on moral grounds to curtail the filmmaker's freedom of expression. Under Article 19, the filmmaker also has complete freedom of expression. Only the Censor Board or Provincial Competent Authority can ban the film if there is any reasonable cause.
COMMENTS
Comments are moderated and generally will be posted if they are on-topic and not abusive.
For more information, please see our Comments FAQ