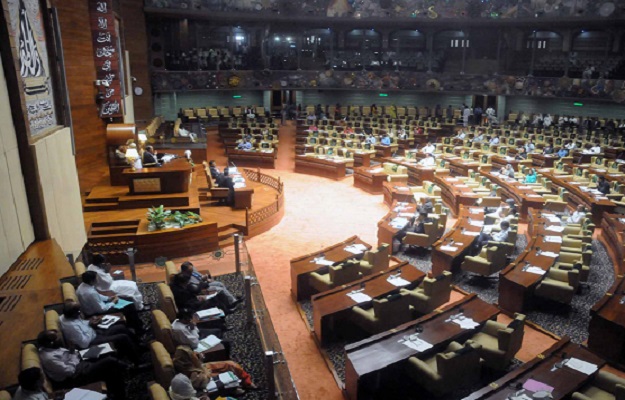 ---
KARACHI:
Sindh Assembly unanimously adopted the resolution condemning the killing of senior journalist Arshad Sharif and demanded the Sindh government to approach the federal government for an impartial inquiry to investigate his murder as per his family's wish.
According to detail, the resolution jointly moved by the Pakistan Tehreek-e-Insaaf (PTI) MPA Khurrum Sher Zaman and Pakistan Peoples Party (PPP) MPA Sharmila Farooqi applauded the services of the slain journalist in the field of journalism in Pakistan.
Farooqi said that Sharif was a shining example of excellence and served as an inspiration to his colleagues and young people aspiring to start journalism as a career.
The resolution supported by all the political parties further reads, "This house stands in solidarity with Shaheed Arshad Sharif's family and requests the Sindh government to approach the federal government to investigate the murder case".
As the session started with speaker Agha Siraj Durrani in the chair, the minister for Parliamentary Affairs and Excise and Taxation Mukesh Kumar Chawla requested the speaker to defer all the agenda as the government wanted to move an adjournment on floods that ravaged many areas of Sindh.
Soon after his words, the PPP MPA Nida Khuhro moved the adjournment motion on floods. The opposition members belonging to PTI also wanted to move the adjournment motion on the same topic, but the speaker did not allow them.
Soon after the adjournment motion was passed, the speaker fixed three days for the discussion on it starting from Monday.
During the session, most of the agenda including the question and answer session and call attention moved by MPAs were deferred.
Earlier, the speaker Agha Siraj Durrani congratulated PPP leadership Asif Ali Zardari, Bilawal Bhutto Zardari, and Asefa Bhutto Zardari on their party's 55th Foundation Day.
"I wished to attend the party events, but I am under house arrest," he said. On this, PTI MPA Khurrum Sher Zaman responded, "Speaker Sahab, the cases of almost all PPP leaders have now been disposed of in their favour. I fail to understand why they have not taken you seriously."
Durrani did not take the statement seriously and started the proceedings of the session.
Published in The Express Tribune, December 3rd, 2022.
COMMENTS
Comments are moderated and generally will be posted if they are on-topic and not abusive.
For more information, please see our Comments FAQ