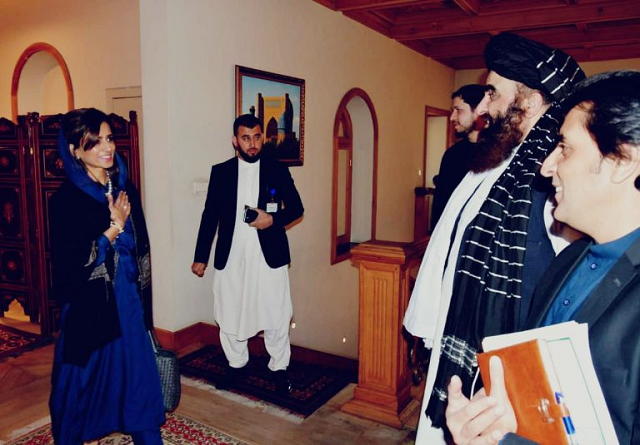 ---
KABUL:
Minister of State for Foreign Affairs Hina Rabbani Khar met Afghanistan's acting foreign minister in Kabul on Tuesday.
The visit comes at a time of heightened security concerns in areas bordering Afghanistan after the banned Tehreek-e-Taliban Pakistan (TTP) said on Tuesday it would no longer abide by a months-long ceasefire with the Pakistani government.
The Afghan Taliban have been facilitating peace talks between local militants and Pakistan authorities since late last year.
Khar met with acting Afghan foreign minister Amir Khan Muttaqi. It was not clear whether security was discussed at the meeting. "A range of bilateral issues of common interest including cooperation in education, health, trade and investment, regional connectivity, people-to-people contacts and socioeconomic projects were discussed," the Foreign Office said in a statement.
In her engagements, the minister reaffirmed Pakistan's commitment to peaceful, stable, prosperous and connected Afghanistan, the statement added. She reiterated Pakistan's resolve to further deepen and strengthen multifaceted ties between the two countries and build an enduring partnership for shared prosperity.
She underscored the imperatives for the international community to practically engage with the Interim Afghan Government to help Afghanistan address the dire humanitarian situation and the challenges of reconstruction and socio-economic development. She also stressed that the unfreezing of Afghanistan's financial assets would contribute to this end.
A statement from Afghanistan's foreign ministry said Muttaqi had also brought up accelerating trade and transit and facilities for travellers between the two countries as well as the release of Afghan prisoners in Pakistan.
Pakistan this month reopened a major Afghan border crossing that was shut for trade and transit after security forces from the two sides had clashed. Some on social media highlighted the fact that a woman was heading Pakistan's delegation at a time when the United Nations and Western officials have called on the Taliban to change course on women's rights.
In a meeting with Deputy Prime Minister Abdul Salam Hanafi, which was also attended by Minister for Mines and Petroleum Shahabuddin Delawar, the discussions focused on bilateral trade, connectivity and people-to-people contacts.
Khar had a luncheon meeting with Women Chamber of Commerce, where she underlined the important role of women in the society and expressed Pakistan's keen interest in strengthening linkages between women entrepreneurs of Pakistan and Afghanistan.
She announced that Pakistan would give special preference to import of products produced by businesses run by the women entrepreneurs.
Earlier on her arrival in the Afghan capital, Khar was received at the airport by Deputy Minister for Economy Abdul Latif Nazari and the Pakistan embassy's Head of Mission in Kabul Ubaid-ur-Rahman Nizamani.
COMMENTS
Comments are moderated and generally will be posted if they are on-topic and not abusive.
For more information, please see our Comments FAQ