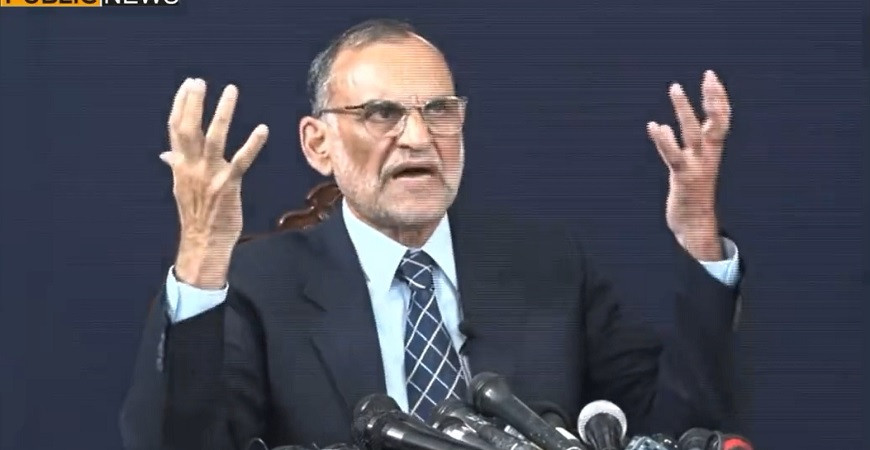 ---
ISLAMABAD:
Pakistan Tehreek-e-Insaf (PTI) leader Senator Azam Swati has approached the Islamabad High Court (IHC) to obtain details of the cases filed against him in Sindh and Balochistan.
In a plea filed on Monday, Swati stated that after being handed over to the Federal Investigation Agency (FIA) on physical remand, he came to know about other cases.
The plea stated that he was released on bail in another similar case. He was also subjected to the worst torture during detention, he added.
Swati said that he has reports that he could be killed and subjected to any kind of inhuman treatment in custody.
When presented in court, it was found that a case had been registered in Quetta, he said, adding that cases had also been registered in various police stations of Sindh.
He requested in the petition that the details of the cases registered against him be sought.
He also called for ensuring that fundamental human rights be preserved.
The petition stated that several cases had been registered in both provinces. As the actual number was not known, it was necessary to get the details of the cases to exercise the legal right and get the services of lawyers, it added.
It has been requested in the petition that the details of the cases be sought from the Sindh IG, Balochistan IG and FIA DG.
Sindh IG, Balochistan IG, FIA DG and interior ministry were made parties in the petition.
COMMENTS
Comments are moderated and generally will be posted if they are on-topic and not abusive.
For more information, please see our Comments FAQ