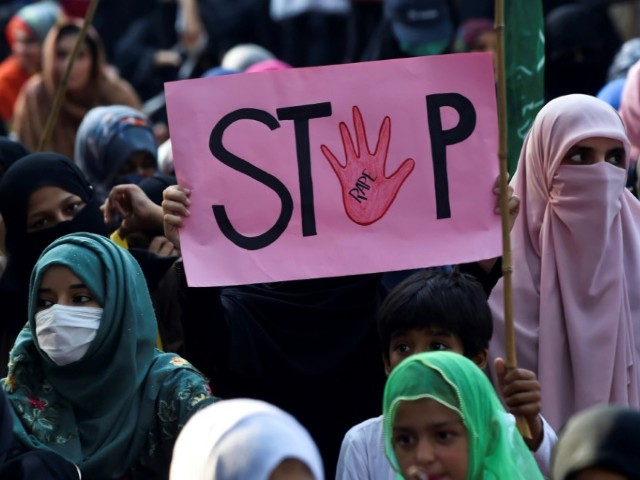 ---
DIJKOT:
A 10-year-old girl was raped and killed, police said.
Police took possession of the body and started the process of questioning while detaining several suspects during a search operation.
As soon as the serious incident was reported, senior police officers along with the SSP operation reached the spot. Regional Police Officer (RPO) and CPO took notice of the matter and asked for a report.
According to the police report, Ramzan, a resident of Chak No. 467 GB Bawaianwala, went to work yesterday. Meanwhile, his neighbour, Shaherbanu, wife of Sarwar, asked Ramzan's ten-year-old daughter to buy her some rice from the shop.
When the girl did not return home until late in the evening, her family informed the police on Rescue 15. The police started searching for the girl along with her family.
When the girl was not found, the police registered a case against unknown accused on the statement of the girl's father Ramzan and continued searching for her.
Meanwhile, on Sunday, at half past nine in the morning, the girl's body was found soaked in blood from the roof of a house near the shop.
The girl was killed by unknown accused after they had raped her.
As soon as the incident was reported, SSP Operation Abdullah Ahmed, DSP Tandlianwala Malik Zafar and other senior police officers reached the scene of the incident, who along with the crime scene teams collected evidence and shifted the body of the girl to the hospital for postmortem. During the search operation, several suspects were detained who were being interrogated.
Regional Police Officer Sarfaraz Ahmed Falki took notice of the incident of rape and murder of a ten-year-old girl and sought a report from CPO and issued orders to immediately arrest the accused.
The CPO has formed teams under the leadership of SSP Operation, SP Saddar Division and DSP Samandari.
When contacted, SHO City Samandari Shahid Pannu said that all the members of the house where the girl's body was found had been detained.
Panic spread in the area after the serious incident.
Meanwhile, the family of the victim staged a protest against the highly cruel incident.
They did not bury the victim in protest and had put her body at the main bypass where the protest was continuing.
There has been a huge traffic jam at the bypass due to the protest.
When police arrived at the scene to negotiate with the family of the victim the latter refused to have any negotiations.
The protest has been on till the filing of this report.
Published in The Express Tribune, November 28th, 2022.
COMMENTS
Comments are moderated and generally will be posted if they are on-topic and not abusive.
For more information, please see our Comments FAQ