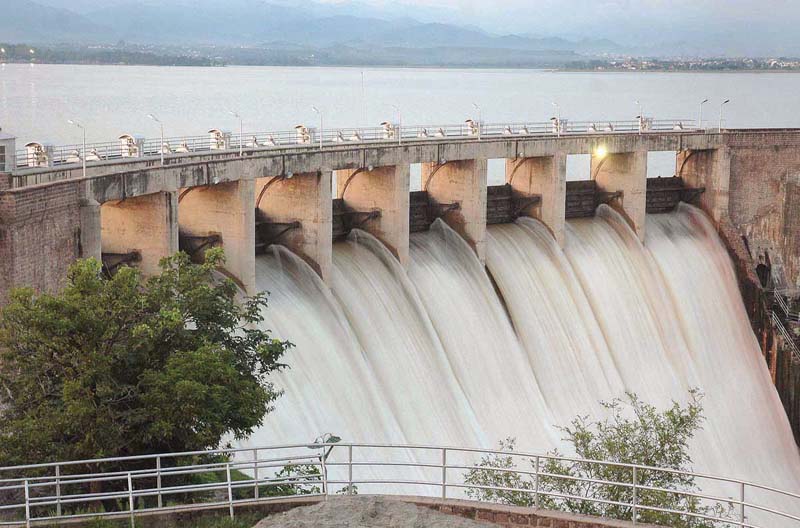 ---
RAWALPINDI:
The Punjab government has decided to increase the storage capacity of the Rawal Dam to cater to the growing water needs in Rawalpindi city.
Sources said that Punjab Chief Minister Pervaiz Elahi has ordered to carry out the feasibility study to increase the capacity of the reservoir and prevent silting to increase the supply to Rawalpindi city.
Sources said that Punjab chief minister concurred with a presentation by Rawalpindi Development Authority Chairman Tariq Mehmood Murtaza and issued instructions to complete the feasibility study in three to four weeks and put forward the estimated cost of the project.
The Rawal Dam, located in Islamabad, is one of the major sources of water supply for the garrison city.
However, with the passage of time and owing to the obstructions in the catchment area of the dam and rapid silting, its storage capacity has reduced significantly.
The 48-inch pipeline laid in 1979 from Rawal Dam to supply 28 million gallons of water to the city of Rawalpindi has become completely unusable. It will also be overhauled to increase the water supply to 36 million gallons per day, the sources said.
On the one hand, the storage capacity of the dam has decreased dramatically and on the other hand, due to the increasing population of Rawalpindi city, the water requirements have increased several folds over the years.
RDA Chairman Murtaza confirmed that the Punjab chief minister has issued the directive to complete a feasibility study and hire a consultant to determine the cost of the project. He said that the Water and Sanitation Agency (WASA) Rawalpindi will execute the project.
Murtaza said that Rawal Dam was a major source of water supply to the city. He said that increasing the storage capacity of Rawal Dam will be a long-term project.
Earlier, sources told The Express Tribune that the bed of the Rawal Dam will be cleaned to increase its water storage capacity and the services of international companies will be hired for this project. The Rawal Dam was built in 1965 and has since not been properly cleaned. A large amount of soil and sediment has accumulated in it.
Large water tanks will be built in the second phase of the project next to the spillways of the Rawal Dam and by opening the spillways of the dam, the bulk of the water will be collected in these water tanks instead of going to waste.
"Currently, the underground water level has fallen to an alarming extent of 750 feet and the rate of decline is increasing due to climate change. Due to this, around 450 tube wells of WASA are getting dry or are providing less water," the RDA chairman said earlier.
Published in The Express Tribune, November 24th, 2022.
COMMENTS
Comments are moderated and generally will be posted if they are on-topic and not abusive.
For more information, please see our Comments FAQ