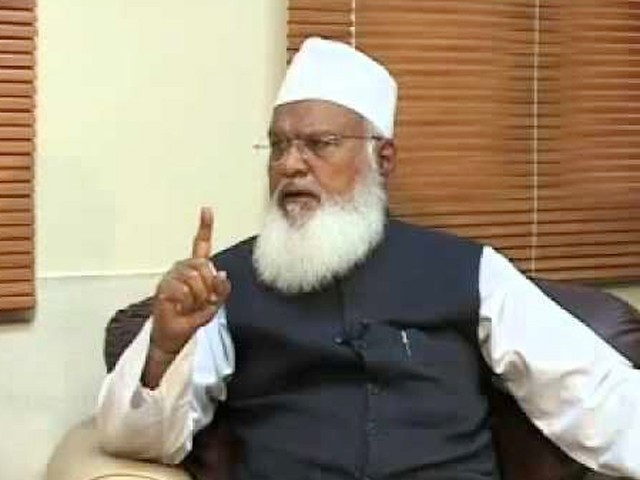 ---
Renowned religious scholar and President of Jaamiyah Darul Uloom Karachi Mufti Rafi Usmani was laid to rest on Sunday following funeral prayers at Darul Uloom Karachi.
Mufti-e-Azam Pakistan's funeral prayer was led by his younger brother Mufti Taqi Usmani. A large number of scholars, students and people from all walks of life participated in the funeral prayers.
Sindh Governor Kamran Tessori, JUI-F chief Maulana Fazlur Rehman, PSP Chairman Mustafa Kamal and leader Anis Qaim Khani, Ameer Jamaat-e-Islami Karachi Hafiz Naeemur Rehman and others also attended the funeral prayer.
After the funeral prayer, Mufti Rafi Usmani was buried in the graveyard adjacent to Korangi Darul Uloom alongside his father and mother.
Read more: Mufti-e-Azam Pakistan Rafi Usmani passes away
Strict security arrangements were made at the main gate of Darul Uloom Karachi for the occasion. The bomb disposal squad also checked the location.
The 88-year-old renowned religious scholar passed away in Karachi on Friday. Mufti Rafi was born on July 21, 1936, into the Usmani family of Deoband, in the Indian town of Deoband. He was named Muḥammad Rafi by Ashraf Ali Thanwi.
Maulana Rafi's father Muhammad Shafi Deobandi was a Grand Mufti of Darul Uloom Deoband and one of the pioneer figures of the Pakistan Movement.
The renowned religious scholar Rafi Usmani was the elder brother of well-known Mufti Taqi Usmani. He had also written over 30 books.
COMMENTS
Comments are moderated and generally will be posted if they are on-topic and not abusive.
For more information, please see our Comments FAQ