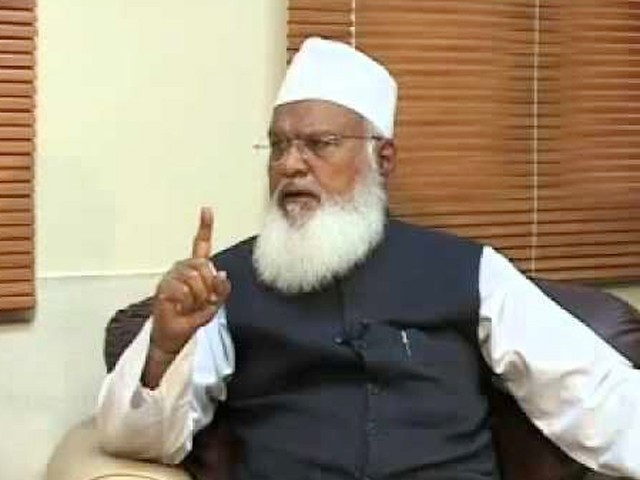 ---
Renowned religious scholar and President of Jaamiyah Darul Uloom Karachi Mufti Rafi Usmani passed away in Karachi on Friday. He was 88.
The death of the Mufti-e-Azam Pakistan has been confirmed by Darul Uloom Karachi and it was informed that the funeral prayers of the deceased will be held in the graveyard located on the premises of Darul Uloom Karachi.
Mufti Rafi was born on July 21, 1936, into the Usmani family of Deoband, in the Indian town of Deoband. He was named Muḥammad Rafi by Ashraf Ali Thanwi.
Maulana Rafi's father Muhammad Shafi Deobandi was a Grand Mufti of Darul Uloom Deoband and one of the pioneer figures of the Pakistan Movement.
The renowned religious scholar Rafi Usmani was the elder brother of well-known Mufti Taqi Usmani. He had also written over 30 books.
Soon after the news of the death broke, condolences and tributes started pouring in from people from all walks of life.
President Dr Arif Alvi expressed grief over the demise of noted religious scholar. Paying tribute to the religious and literary services of the late scholar, the president said he had rendered valuable services in the fields of theology, Hadith and Tafsir.
His services in the fields of religion, education and particularly the promotion of religious education would be remembered forever, he added.
The president prayed to Allah Almighty for peace of the departed soul and strength to the bereaved family to bear the loss with fortitude.
صدر مملکت ڈاکٹر عارف علوی کا معروف عالم دین اور صدر جامعہ دار العلوم کراچی مفتی رفیع عثمانی کے انتقال پر اظہار افسوس

صدر مملکت کا مفتی رفیع عثمانی کی وفات پر گہرے رنج و غم کا اظہار

صدر مملکت کا مرحوم کی دینی اور علمی خدمات کو خراج عقیدت

— The President of Pakistan (@PresOfPakistan) November 18, 2022
JUI-F chief Maulana Fazlur Rehman said that Pakistan has lost a moderate and high-minded religious scholar whose valuable academic services will always be remembered.
He said that Mufti Rafi Usmani had balanced thoughts and ideas and he presented the true image of Islam to the world through his writings and sermons, always maintaining the correct stance on modern jurisprudential issues.
Sindh's Governor Kamran Tessori extended his thoughts to the Usmani family.
إِنَّا لِلَّٰهِ وَإِنَّا إِلَيْهِ رَاجِعُون
معروف عالم دین مفتی محمد رفیع عثمانی کے انتقال کی خبر سن کر انتہائی دکھ ہوا ۔ دینی تعلیمات کے فروغ کے لئے مفتی صاحب کی خدمات بے مثال ہیں، یہ نہ صرف پاکستان بلکہ عالم اسلام کے لئے عظیم نقصان ہے pic.twitter.com/2dCfm1a82Y

— Kamran Tessori (@KamranTessoriPk) November 18, 2022
Chief Minister Murad Ali Shah also expressed grief over the esteemed scholar's demise.
COMMENTS
Comments are moderated and generally will be posted if they are on-topic and not abusive.
For more information, please see our Comments FAQ