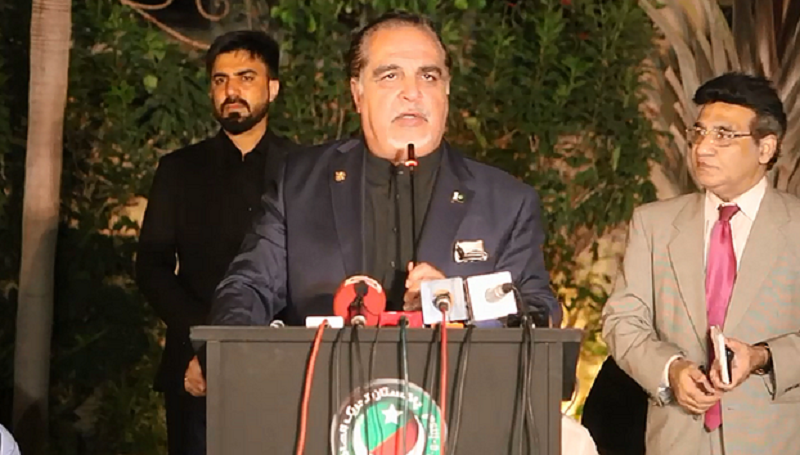 ---
KARACHI:
More than 26 MNAs and Sindh Assembly MPA belonging to the Pakistan Tehreek-e-Insaaf (PTI) have submitted applications in the Supreme Court of Pakistan (SCP), Karachi Registry, requesting to form a judicial commission to conduct high-level investigations on the attack on party chief Imran Khan, killing of Arshad Sharif and matter about Azam Swati.
Former federal minister, Ali Zaidi while talking to the media said that an FIR should be registered as per the statement of Imran Khan. He said, there should be a thorough investigation into what happened to Senator Azam Swati.
"Shaheed Arshad Sharif was an investigative journalist who was killed in Kenya, why Kenya's Ambassador has not been summoned over changing statements from Kenyan police?" Zaidi said, adding, Arshad Sharif's family should be provided justice. The truth should come out and legal action should be taken against those responsible.
Former Sindh governor Imran Ismail said that an FIR should be registered for the attack on Imran Khan. A case should be registered against Prime Minister Shahbaz Sharif, Rana Sanaullah and Major Faisal.
Ismail said a fugitive in London was consulted on the appointment of army chief. How can a person who is living the life of a fugitive decide who will be the army chief? Ismail said, adding, the eyes of the entire nation are on the Supreme Court.
Opposition leader Haleem Adil Sheikh said that there is a demand of the nation that an FIR should be registered. The torture on Azam Swati and murder of Arshad Sharif should be investigated. All the secret hands that are blocking this FIR should be brought to light.
Published in The Express Tribune, November 15th, 2022.
COMMENTS
Comments are moderated and generally will be posted if they are on-topic and not abusive.
For more information, please see our Comments FAQ