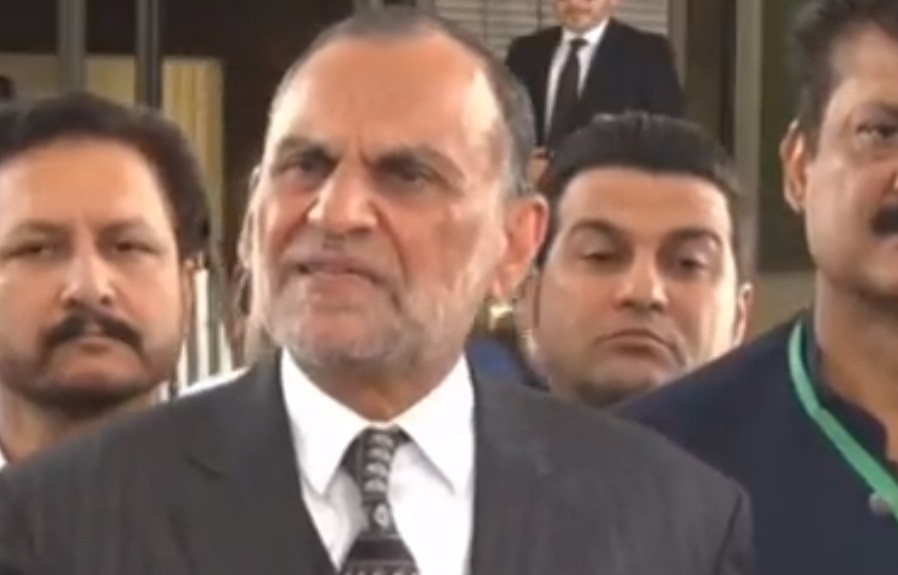 ---
ISLAMABAD:
Politicians and social media figures from across the political divide reacted with shock and outrage on Saturday after PTI Senator Azam Swati broke down, choking on his words and tearing up before the media while revealing that his wife had received an objectionable video featuring him and her.
Condemnations and support poured in from all quarters in an otherwise adversarial political arena following the harrowing details of the alleged incident shared by the senior politician in front of cameras.
Earlier in the day, the Pakistan Tehreek-e-Insaf (PTI) senator told a press conference that his wife was sent a private video from an "unknown number", featuring the two of them, as he broke down in tears, narrating the ordeal.
The presser also elicited alarm among journalists, rights activists and politicians who joined the chorus of PTI leaders condemning the alleged harassment meted out to the senator.
PPP Senator Mustafa Nawaz Khokhar shared a clip from Swati's press conference and termed it a "slap on the face of the Senate chairperson and entire parliament".
Meanwhile, journalist Mazhar Abbas said Swati's "video statement should be an eye opener for every democratic and rights activist. [I] wonder how come someone like Senator Pervez Rasheed is silent as he himself had faced such humiliation. This is not acceptable".
Journalist Zarrar Khuhro said the incident evoked disgust, saying he believed Swati as there was "no reason to doubt".
"No one would make such claims if they were not true and there is no reason in my mind to doubt Azam Swati sb. Shameful and disgusting to the extreme and merits a suo moto by the Supreme Court which should direct the investigation into this atrocious act as soon as it can," he tweeted.
PPP leader Farhatullah Babar said they condemned Swati when he "tortured" a poor family and "ridiculed" PML-N leader Maryam Nawaz allegations that cameras were installed in her washroom. "But today one must condemn what has been done to Swati. One will. Criminals will face divine retribution," he wrote on his Twitter handle.
Chief Minister of Khyber-Pakhtunkhwa Mahmood Khan also strongly condemned the "inhumane and immoral treatment of senior parliamentarian Azam Swati", calling it a "shameful" incident.
PML-N's Miftah Ismail also condemned the alleged incident narrated by Swati.
Quoting a tweet by Imran, he posted: "I have never felt the urge to retweet Imran Khan but here I have to agree with him. The video of Begum Azam Swati is clearly beyond the pale.
"I feel ashamed that an honourable woman can be so humiliated in my country. This madness must stop."
PML-N's Musadik Malik also joined his party leader and said, "Making private videos and attacking politicians are despicable acts. As a nation our head hangs in shame".
We must stop this violence and abuse across all party lines, he stressed.
PML-N Senator Mushahid Hussain Sayed said he had called his "friend and colleague" to express solidarity with him and his family on the "disgraceful degradation of all basic norms of morality and decency, unacceptable invasion of privacy and shocking crossing of 'Red Line'".
Power Minister Khurram Dastgir said he shared the anguish of Swati and has requested the Ministry of Interior to "investigate gross invasion of privacy, inform people of the facts and penalise the perpetrators".
Meanwhile, Jamaat-i-Islami Senator Mushtaq Ahmad Khan penned a letter to the Senate chairman, demanding the formation of a parliamentary committee comprising all political parties for investigation.
MQM-P's Faisal Sabzwari said he was extremely sorry for the pain Swati and his family was going through and urged Prime Minister Shehbaz Sharif to "order highest level inquiry on the accusations".
COMMENTS
Comments are moderated and generally will be posted if they are on-topic and not abusive.
For more information, please see our Comments FAQ