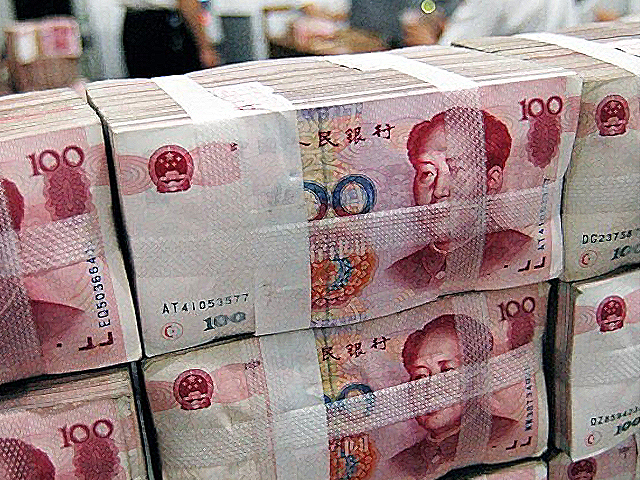 ---
KARACHI:
The central banks of Pakistan and China have agreed to boost bilateral trade and investment in Chinese yuan. The move is aimed to reduce the nation's reliance on US dollar-based payment settlements, stabilise foreign exchange reserves and support the rupee against the greenback.
The State Bank of Pakistan (SBP) and the Peoples Bank of China (PBoC) have signed a memorandum of understanding (MOU) on establishing RMB (Interchangeable Chinese currency) clearing arrangements in Pakistan, the country's central bank reported this week.
"The establishment of the RMB clearing arrangement in Pakistan will further boost usage of RMB for cross-border transactions among Chinese and Pakistani enterprises and financial institutions. This will also promote bilateral trade and investment between the two countries," added the SBP.
SBP Governor Jameel Ahmad and PBoC Governor Yi Gang signed the MOU during Prime Minister Shehbaz Sharif's two-day visit to China.
Beijing and Islamabad conducted bilateral trade in Chinese currency worth RMB30 billion ($4.5 billion) in the fiscal year 2020-21 under the currency swap agreement (CSA).
Finance Minister Ishaq Dar said on Thursday that China increased financing in Chinese currency by an additional RMB10 billion ($1.45 billion) under the CSA during the premier's visit this week.
Accordingly, Pakistan has now made available a total RMB40 billion ($6 billion) to clear its import payments in the current fiscal year 2023.
China stands as Pakistan's single largest trading partner. Islamabad imported goods and services worth $18 billion from Beijing last year, of which import payments worth $4.5 billion were made in Chinese yuan (RMB 30 billion), meaning Pakistan's reliance on the greenback was cut down by $4.5 billion last year.
This year, accordingly, Pakistan's reliance on the US dollar will be reduced further by $1.45 billion to $6 billion this year.
Pakistan paid over Rs26 billion in interest payments to China against utilising RMB30 billion ($4.5 billion) in FY21.
Last year, Pakistan exported goods and services to China worth a little over $2 billion, it was learnt.
Background information suggests the establishment of RMB (Chinese yuan) clearing arrangements in Pakistan will end the role of the New York central clearing system in payment settlements between the two bordering countries.
The Exchange Companies Association of Pakistan (ECAP) President Malik Bostan said the establishment of RMB clearing arrangements in Pakistan will enable Pakistani traders to clear all import payments to China ($18 billion) in RMB.
"The two central banks (SBP and PBoC) will make available unlimited financing in Chinese currency for trade and investment between the two countries," he said.
"Thereby reducing Pakistan's reliance on the US dollar by around $18 billion this year compared to $4.5 billion last year," he claimed.
This will also help boost the country's foreign exchange reserves significantly this year and appreciate the rupee to below Rs200 against the greenback, compared to around Rs221.95 at the interbank market on Friday.
Published in The Express Tribune, November 6th, 2022.
Like Business on Facebook, follow @TribuneBiz on Twitter to stay informed and join in the conversation.
COMMENTS
Comments are moderated and generally will be posted if they are on-topic and not abusive.
For more information, please see our Comments FAQ