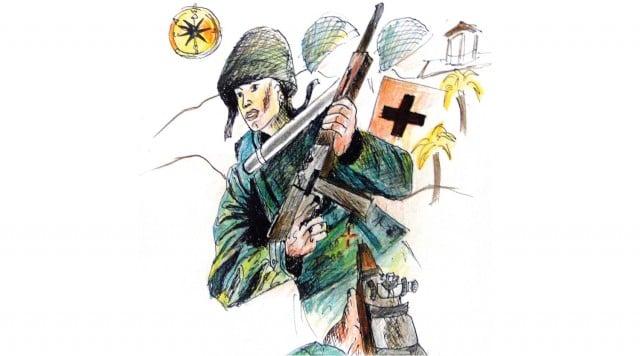 ---
Holding his machine gun and armed to the teeth, he paused for a second before turning the corner. Suddenly his opponent, waiting for him with a shotgun, shoots him in the chest at point blank.

"Damn it! I died!" He pushed his chair back and got up. Umar Shahid took out two Rs100 notes from his pocket and slammed them down right next to his keyboard. His team looked at him with contempt. He was not the only one losing money.

Betting money on matches is a new habit that some gamers in the twin cities have picked up.

Both teams set the rules, the amount they want to bet (which ranges from Rs500 to Rs10,000) and decide on a date and place, which is normally a renowned computer gaming cafe. Whoever wins takes the spoils of the war, cash!

Boys in their teens or early twenties come to these cafes to play multiplayer games. Computers are connected via local network and packed with games that immerse all connected players into a virtual environment where shooting someone in the head is a matter of prestige. Players, who call each other by their aliases instead of their real names, are found spending (or at times earning) generously in these gaming cafes.

"We no longer see any point in playing unless money is at stake," said Mustafa Munir, an avid gamer.

Computer gaming has gained popularity in the past five years in Pakistan. This can be best illustrated by the staggering number of gaming cafes that opened up during this time and the number of university level tournaments that took place yearly. While small universities offer modest prizes of keyboards and mouse-pads, larger tournaments like LAGAN and UGX held at LUMS and GIKI respectively, give away more than Rs100,000 in prize money.

Winners of national gaming events said that this betting was a "plague". Rafey Majeed, who has represented Pakistan in Singapore and Paris before being elected president of LUMS computer gaming association said: "We try to promote video gaming as a healthy competitive sport but unfortunately the general perception is still very negative." He added, "Betting exists at some level in all contests, cricket, football and others, but they hurt gaming more because of its novelty."

Ali Murad, organiser of the upcoming World Cyber Games (WCG), where eight winners will represent Pakistan in Los Angeles, said, "We intend to take the main gaming cafés on board and make a governing body that will keep an eye on these non-serious gamers and their betting."

Mohsin Akram, gaming administrator Cinepax (Islamabad host of WCG), said, "I have never witnessed any betting in the café but what the players do outside is not my concern."

While gamers deny that they ever have arguments on a bet match, Faisal Tanoli, administrator of a gaming cafe in Westridge Rawalpindi, has a different story to tell. "A couple of times when a team lost a bet match, its members started accusing the other team of cheating, they cursed out at each other a bit, but it never ended up in a fist fight."

Most parents, when asked how they felt about their children betting on matches, claimed that they were unaware that such a practice even existed.

Published in the Express Tribune, June 26th, 2010.
COMMENTS (3)
Comments are moderated and generally will be posted if they are on-topic and not abusive.
For more information, please see our Comments FAQ