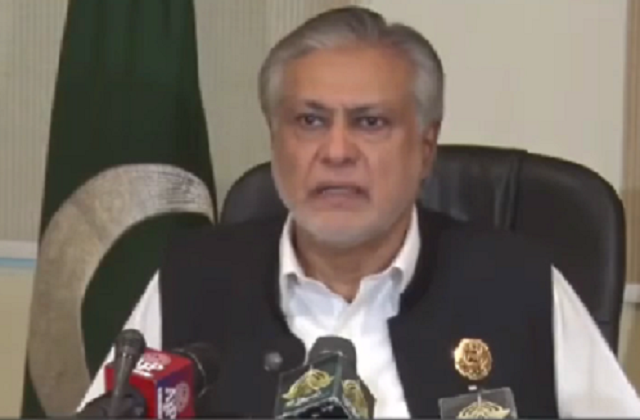 ---
LONDON/ISLAMABAD:
Federal Minister of Finance Ishaq Dar said on Wednesday that talks with the International Monetary Fund (IMF) are progressing well and with 'positive' results are expected soon.
"During my visit, 58 meetings have been held with the IMF and the World Bank. In these meetings, a lively discussion was held with the top management," said the Pakistan Muslim League-N (PML-N) leader while speaking to the media in London.
Read Dar vows IMF reforms as flood damage estimated at over $16b
Referring to the recent increase in the value of the US dollar, the finance minister said it was not a matter of grave concern and that the real value of the dollar is much lower than the current rate. He also expressed hope that the greenback would fall to its real value.
Speaking about his meeting with PML-N supremo Nawaz Sharif, Dar said a number of issues were part of the discourse but refrained from giving away details, claiming it wasn't necessary to inform the media about every matter.
Dar rules out default on debt
On Sunday, during an interview with Reuters, Dar said that he will seek rescheduling of some $27 billion worth of non-Paris Club debt, but will not pursue haircuts as part of any restructuring.
Dar ruled out the possibility of a default on the country's debt, an extension of the maturity date on bonds due in December or a renegotiation of the current International Monetary Fund programme.
The minister said multilateral development banks and international donors have been "quite flexible" with ways to meet the country's external financing needs estimated at about $32 billion after devastating floods.
Read More Pakistan seeks rescheduling of $27b bilateral debt: Dar
Some of this may come from reallocating funds from previously approved, slower-disbursing development loans, he added.
Dar, who is participating in the IMF and World Bank annual meetings just over two weeks after taking office, said that Pakistan will seek restructuring on equal terms for all bilateral creditors.
COMMENTS
Comments are moderated and generally will be posted if they are on-topic and not abusive.
For more information, please see our Comments FAQ