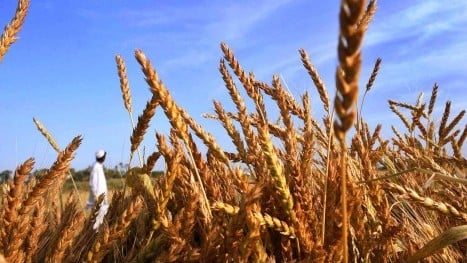 ---
HYDERABAD:
After observing a strike for two days, which caused problems for people buying flour, the Atta Chakki Owners Association on Friday evening called off their protest.
However, the chakkis gave only three days till October 17 to the provincial government to accept their demand about the supply of wheat.
Chakkis are small scale wheat grinders running shops in commercial areas. Unlike processed flour from the flourmills, the chakkis supply wholegrain wheat flour. Many grinders also offer maize, barley, gram, milt and rice flour on demand.
The association's president Haji Muhammad Memon informed that Hyderabad Division Commissioner Nadeemur Rehman Memon has assured them that their grievances will be addressed. The chakkis claim that the Sindh Food Department is discriminating between the chakkis and the bigger flour mills in the matter of release of the wheat quota.
The former will be given 140 kilograms of wheat per stone but that too once the food officials complete the survey of functional chakkis in Hyderabad. The association claims that there are 216 chakkis in the district having a total of 716 stones.
The association's general secretary Najamuddin Chohan told The Express Tribune that they have come to know that 216 chakkis in Hyderabad will be provided with 30,000 bags of 100kg each over a period of one month. Whereas, the eight flour mills in Hyderabad will get double the quantum of 60,000 bags during the same time.
"The chakkis produce flour in comparatively small quantities and they sell it to the local people. But the mills are not bound to sell flour in Hyderabad only," he pointed out, arguing that the government subsidized wheat which is meant to be sold to the poor people should be sold through chakkis if the government really wanted to make the common people beneficiaries of its wheat stock.
The flour in Hyderabad is being sold at between Rs110 to Rs140 per kg. On Friday a bag of 100kg wheat was being bought at Rs8,900 per bag of 100kg at the local market. In comparison the food department is selling wheat at Rs5,800 per bag of 100kg.
The mills and chakkis which receive the government's wheat are supposed to comply with the Sindh government's notification of selling flour at Rs65 per kg. However, Chohan contended that chakkis bear a cost of around Rs22 per kg in addition to Rs58 per kg wheat price on transportation and processing of the wheat, also inclusive of the cost of their entire business.
"Even if we get the food department supplied wheat, maintaining the Rs65 per kg price of flour will be impossible," he said.
Published in The Express Tribune, October 15th, 2022.
COMMENTS
Comments are moderated and generally will be posted if they are on-topic and not abusive.
For more information, please see our Comments FAQ