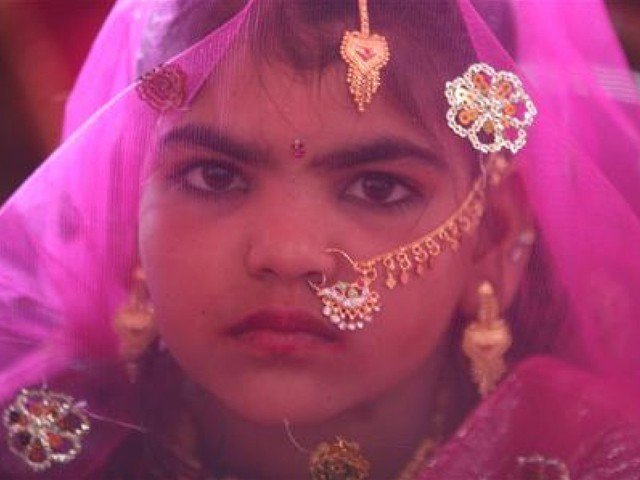 ---
KARACHI:
Sindh is the first province in Pakistan that passed the 'Sindh Marriage Restraint Act 2013' with an aim to prevent solemnization of children's marriages.
However, eight years on, implementation of this law is still a great challenge for the authorities, many of whom sat together on Thursday to discuss lacunas and stumbling blocks in the law's implementation.
The event that was organized by the Sindh Human Rights Commission (SHRC) in collaboration with the National Commission on the Rights of the Child (NCRC) where speakers discussed challenges, institutional needs, possible collaborations, and suggested a way forward to address such gaps in order to implement the law in true spirit.
Attendees at the event included child rights and civil society activists, police officials, senior bureaucrats and media persons.
"The Sindh government rightly claims credit of becoming the country's first elected assembly to have passed a bill on child marriage in April 2014, which places a ban on marriage of children under 18 years of age and makes its violation punishable with rigorous imprisonment of up to three years, but sadly the law is still poorly implemented," said SHRC Chairperson Justice (retd) Majida Razvi.
SHRC Member Zulfiqar Shah said that Pakistan is the sixth largest country where girls are married below the age of 15. "Under this law, a rigorous imprisonment, which may extend to three years, has been suggested for violators, but all in vain because there is no proper monitoring at the district level," he said.
NCRC acting chairperson Jawadullah Khan said that his organisation was making efforts to reform laws in all provinces and suggested strong coordination between stakeholders, including police and government authorities, to deal with the issue. "The issues of minors' marriages, child trafficking, and street children are rampant. There is a dire need to develop a database and devise a mechanism for coordination before taking action," he added.
NCRC Member Iqbal Ahmed Detho gave an overview of the Sindh Child Marriage Restraint Act, 2014 and rules of business that were drafted in 2016 and pointed out that there was no proper definition of "minor" in the current law, while the age has been unified for both male and female as adulthood due to which the courts are not clearly applying the jurisdiction in matters of personal laws.
He pointed out that the district monitoring committees established under the law have no budget and without budget they will be unable to conduct their meetings. "The laws cannot see light of the day until the government makes necessary amendment to it, providing proper funding and human resources for their implementation," he added.
Child rights expert Sarah Zaman discussed the operational gaps and challenges in the implementation and added that there are lacunas in the act, but its legitimacy is still there. "Pakistan is in trauma due to the flood disaster, but on the other hand we face several cases of trafficking, rape, and child marriages," she said, adding that poverty is not the main reason for child marriages, other socio-political issues also need to be kept in mind while proposing amendments.
UNICEF child protection officer Mahvish Maria remarked that child marriage is a human rights violation. Despite laws against it, this harmful practice remains widespread. While referring to the findings of the Pakistan Demographic and Health Survey 2017-18, she said that child marriage prevalence in the country is 18%. She added that child marriages increase during humanitarian emergencies.
"Historically, women and girls are disproportionately affected during emergencies and it's mandatory to sensitise communities for birth and marriage registration," she said and recommended that the existing laws should be implemented and further strengthened along with strengthening the government system to prevent and respond to this issue.
Rights activist Anis Haroon also called child marriage a grave violation of human rights and emphasized on changing mindset in society to deal with the situation.
Shirin Nareejo, Secretary Social Welfare Department, highlighted social and economic factors in society which, according to her, encourage child marriages. "The government is following different laws and is in the process of bringing in more reforms for affective implementation," she said.
DIGP South Sharjeel Kharal remarked that child marriage is a critical issue, and his department acts on the law as it is a cognizable offence. "Our human rights cell is working promptly and efficiently, but still there might be some gaps that can be addressed," he said.
PPP MPA Shamim Mumtaz, who also works as chairperson of the Sindh Child Protection Authority, cited frequent transfers of government officials and paucity of funds as the reason behind lack of implementation on the law. She added that child protection units exist in all districts of Sindh. "We have done significant work, but media does not highlight our progress," she said and appreciated the role of police to deal with child marriage cases.
Published in The Express Tribune, October 7th, 2022.
COMMENTS
Comments are moderated and generally will be posted if they are on-topic and not abusive.
For more information, please see our Comments FAQ