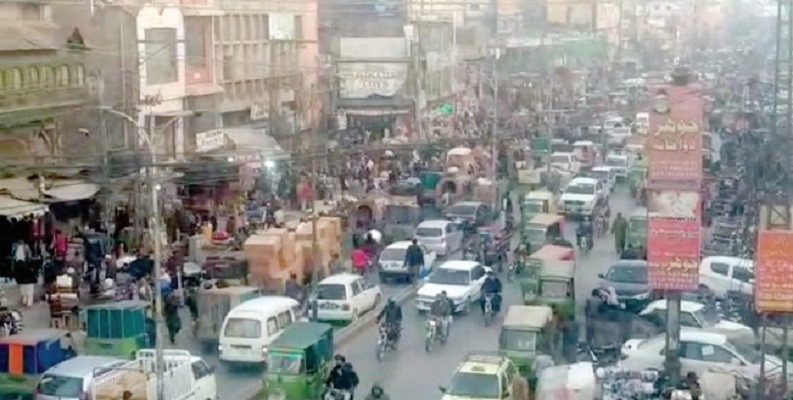 ---
RAWALPINDI:
The illegal stands of public transport around Fawara Chowk near Raja Bazar, the city's major commercial hub, are disrupting the traffic flow due to which long queues of vehicles leading to Raja Bazaar, Ganj Mandi and District Headquarters Hospital have become commonplace.
Citizens said that along with ordinary vehicles, ambulances are also stuck in rush all day due to which the patients and their families are facing serious problems. Local traders said that illegal pickup, rickshaw, taxi and wagon stands have been set up on both sides of the main thoroughfare, causing frequent gridlocks on the nearby streets. The customers have also given up shopping in Raja Bazaar, causing huge financial losses to the traders, they said.
Sources said several delegations of traders met with the district administration and traffic police officials to draw their attention to the burning issue, however, no practical steps have been taken yet.
Meanwhile, a spokesperson of the city traffic police said that the public transport stands were previously established in the parking plaza at Fawara Chowk but with the increased number of vehicles in the city, there is not enough space left in the parking plaza to park the public transport.
The spokesperson claimed that space has been allocated for the construction of a new parking plaza adjacent to the Rawalpindi tehsil office but transporters do not park their vehicles there because the land of the plot is uneven.
He said that the public transporters have been allowed to park only one to two vehicles on the main highway. "Legal action will be taken against those who misuse this conditional permission," he said and added that the additional traffic wardens will be deployed to ensure traffic flow towards Raja Bazaar.
Illegal structures sealed
The Rawalpindi Development Authority (RDA) while taking action against the construction of illegal structures in the city sealed six residential buildings, three plazas and 15 shops on Service Road, High Court Road and Adiala Road. During the operation, one illegally constructed plaza and a wall were also demolished.
During a visit to the Service Road and Gangal Road Rawalpindi for checking the illegal constructions on Wednesday, RDA Director General Muhammad Saif Anwar Jappa stopped at the site of the under-construction plaza on the backside of Shelton Marriage Hall on the Service Road and directed the RDA's Building Control Wing to carry out demolition operation.
A spokesperson for the RDA said that the DG RDA has taken strict notice and issued a warning notice to the concerned structural engineer that his license will be revoked on any further mistake.
Published in The Express Tribune, October 6th, 2022.
COMMENTS
Comments are moderated and generally will be posted if they are on-topic and not abusive.
For more information, please see our Comments FAQ