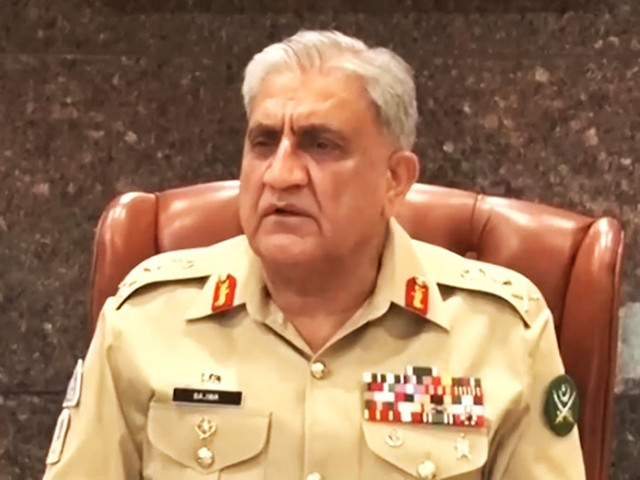 ---
ISLAMABAD:
Army chief General Qamar Javed Bajwa is in the United States on a five-day trip in yet another sign of stepped up efforts by both the sides to improve their fraught and difficult relations.
Though the military's media wing is tight-lipped over the visit, sources told The Express Tribune on Saturday that Gen Bajwa was accompanied by a high-powered delegation.
The army chief is scheduled to hold a series of meetings with the US officials including a visit to the Pentagon and Langley, the headquarters of the Central Intelligence Agency (CIA).
His visit is being closely followed as some have linked it with the expected change of command in November in the army. There are speculations that his visit may mean that the government may extend his already extended tenure.
But sources in Washington are playing down such speculations and insisted the visit has nothing to do with the Pakistani domestic situation.
They say the visit was long overdue. The visit was postponed thrice because of different reasons. General Bajwa was to travel to Washington in early 2022 but because of the Russian invasion of Ukraine the trip was put on hold.
The visit was rescheduled to take place in March-April but because of the change of government, the trip was called off once again. The two sides could not arrange a trip in August either. Finally, he has now travelled to the US at the invitation of US Defense Secretary Lloyd Austin.
The visit reflects the renewed push by the two countries to reset their troubled relations.
Diplomatic sources said Gen Bajwa may be retiring in a couple of weeks but the relations between the two militaries is institutionalised and hence it does not matter if he remains the army chief or not after November.
Americans have praised General Bajwa's policies for regional security. They particularly believe that he has addressed the major concerns of the US with regard to different militant groups in Pakistan.
It was because of this reason that for the first time in many years the US official readout no more stress on Pakistan to do more. The latest example is the visit of Foreign Minister Bilawal where the US official statement did not talk of Pakistan taking indiscriminate action against all groups.
The reason for this is that Pakistan under the FATF programme has effectively dealt with those groups. Another sign the two countries are moving in the right direction is the latest move to postpone the $132 million debt Pakistan owes to the US under the initiative of the G20 countries.
COMMENTS
Comments are moderated and generally will be posted if they are on-topic and not abusive.
For more information, please see our Comments FAQ