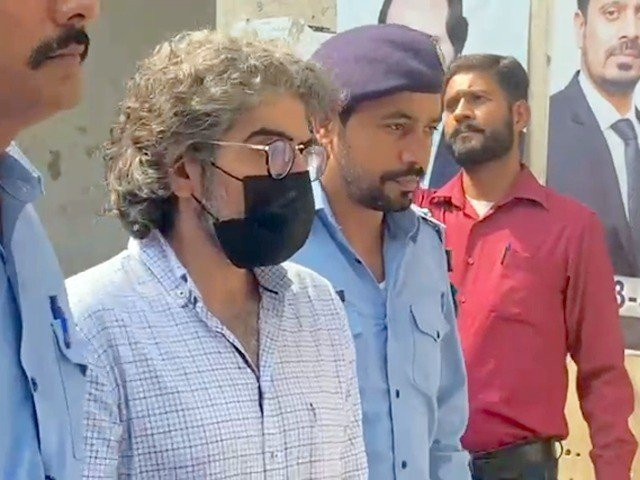 ---
ISLAMABAD:
The bail of Samina Shah, mother of the prime suspect in the Sara Inam murder case, was extended till October 3 by a court on Saturday.
District and Sessions Court Judge Sheikh Sohail heard the bail application, where the investigating officer produced the case record before the court.
The primary suspect Shahnawaz's mother appeared before the court with her lawyer.
The court asked the petitioner's lawyer if Samina was unaware of the presence of the victim in the farmhouse where the incident occurred. They asked why Samina did not inform the police directly about it.
The court further maintained that the petitioner had been living at the farmhouse for 40 years and was also familiar with the girl.
It questioned why had the phone call between Samina and her former spouse, the suspect's father, senior journalist Ayaz Amir, not been mentioned.
Samina's lawyer claimed that the police was "timely" informed of the incident from her side, adding that the main suspect had called his father first and then Samina.
"This is a 40 canal farmhouse; when the petitioner walked over to the place of incident, the girl had already died," the lawyer stated.
The lawyer further said that in a message Shahnawaz had asked Samina to talk to Sara's family about the rukhsati.
Read Court releases senior journalist Ayaz Amir in Sara murder case
After that, Samina allegedly fell asleep, and does not know what happened again at night, the counsel said.
"Her role was only that she ensured the accused remained in a room till she called the police over, and the police reached the spot and arrested the accused," the lawyer asserted.
The court adjourned further hearing of the case till October 3.
In her bail petition, Samina had pleaded that she had "nothing to do with the incident" and nor was she an eye-witness to the crime. It also added that the accused suffers from health problems and requested pre-arrest bail to be approved.
The murder
The 37-year-old victim, identified as Sara Bibi, is suspected of having been murdered by her husband Shahnawaz – Ayaz Amir and Samina Shah's son.
According to sources, Sara and Shahnawaz had an altercation over a domestic issue that resulted in the accused allegedly hitting her on the head with an iron dumbbell.
After killing his wife, sources revealed, the accused allegedly put her body in a bathtub. The police arrested the accused and took him to Shahzad Town Police Station for further investigation.
Sources furthered that the police later nominated Ayaz Amir in the case as well. They had said that in the light of the interrogation of Shahnawaz, the police had obtained the arrest warrant of Ayaz Amir from the area magistrate.
COMMENTS
Comments are moderated and generally will be posted if they are on-topic and not abusive.
For more information, please see our Comments FAQ