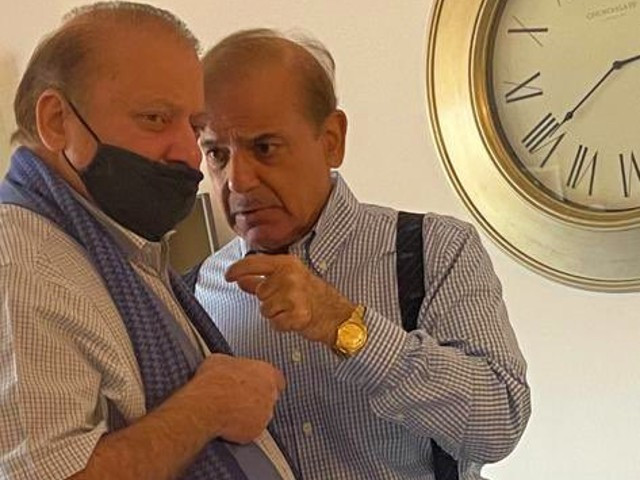 ---
ISLAMABAD:
Former financial czar Ishaq Dar is all set to become Pakistan's finance minister again in what appears to be a desperate move by the bigwigs of the PML-N not only to revive the country's faltering economy but to regain its lost political capital ahead of the next general elections.
If all goes as per plan, the senior PML-N leader and the senator-elect is likely to take oath as the finance minister as early as the coming Tuesday.
The decision about the major reshuffle in the cabinet was made in a lengthy huddle in London between PML-N supremo and former premier Nawaz Sharif and his brother, Prime Minister Shehbaz Sharif.
The meeting was also attended by Dar, who is said to be coming back to the country along with PM Shehbaz.
The premier, who had gone to the UK to attend the funeral of Queen Elizabeth, had met his elder brother in London to discuss key political issues before departing to the US to attend the UN General Assembly session.
After the UNGA session, PM Shehbaz returned to London again and had a long meeting with his brother and Dar, who had left for the UK in October 2017 while he was standing trial in a corruption reference.
Read more: Dar gets physician's NOC to fly to Pakistan
The top PML-N leaders decided that Dar would replace the incumbent finance minister, Miftah Ismail.
The PML-N officials accompanying the prime minister revealed that Miftah had opted to resign instead of taking a new portfolio after the party leadership decided in the London huddle to replace him with Dar.
Miftah's term as the finance minister is ending on October 27 as he could only serve for six months as an outsider.
He either needed to be elected as a member of the National Assembly or Senate to continue holding his portfolio.
However, there was no such plan under consideration at the moment.
The sources said the London meeting did not turn out to be good for Miftah as he did not have any option but to show grace under compulsion.
"The PML-N thinks that it will change his [Miftah's] portfolio, but he will resign," a minister accompanying PM Shehbaz to London shared.
The minister added that Miftah would not opt for another portfolio as he was a respectable man. The minister said Nawaz would be back in Pakistan to campaign before the next general elections.
He revealed that the party had convinced Nawaz to return before it was too late – a development that Interior Minister Rana Sanaullah also confirmed at a news conference on Saturday held in Lahore.
Although Miftah has declined the offer to take any portfolio, another source in London said the incumbent finance minister would resign but he would still be a part of the economic team.
Read more: PML-N leader Ishaq Dar confirms his return to Pakistan next month
London has long remained a centre of attention in Pakistan's political circles and it once again came into focus as PM Shehbaz along with key ministers of his party met with Nawaz and Dar, among others, for the second time since assuming the office of the prime minister to mull over some key issues as tensions run high on the political front in the country.
The London meeting was aimed at reviewing the government's performance since coming to power and discussing issues ranging from choosing the new finance minister as well as the appointment of the army chief.
It also considered completing the government's remaining term as well as convincing Nawaz to return to Pakistan and lead the election campaign.
Just a few months ago, the debate about Miftah's replacement had triggered soon after swirling speculations about Dar's return.
The former financial czar's return and lobbying within the party built pressure on Miftah to the extent that he had since been repeatedly saying that he was ready to hand over the reins of his ministry to the senator-elect, who was in London since 2018 and declared a proclaimed offender by an accountability court in Islamabad.
Recently, the accountability court suspended Dar's arrest warrants after he requested it to allow him to surrender without being arrested on his return from London.
In the recent past, the PML-N's internal rifts over Miftah's future not only aggravated but created a situation where party stalwarts had to openly come to express their support for him.
However, it has now turned out that the open support from party stalwarts including Defence Minister Khawaja Asif and ex-PM Shahid Khaqan Abbasi could not help extend Miftah's tenure as finance minister.
Asif and Abbasi's support had come at a time when several other party leaders had favoured removing Miftah and voiced support for Dar.
Both the party leaders had tweeted that Miftah's understanding of economic issues was unmatched and it was time to stand with him, especially, when he was feeling the heat from within.
Throughout his tenure, Miftah faced severe criticism for repeatedly jacking up petroleum prices and he became the face of the government's "tough decisions"
Several party leaders criticised and opposed him.
Previously, Miftah had told The Express Tribune that he would comply with whatever decision the prime minister made within the next 15 minutes of becoming aware of it.
The incumbent finance minister was approached for comments on Saturday but he was not available.
COMMENTS (1)
Comments are moderated and generally will be posted if they are on-topic and not abusive.
For more information, please see our Comments FAQ