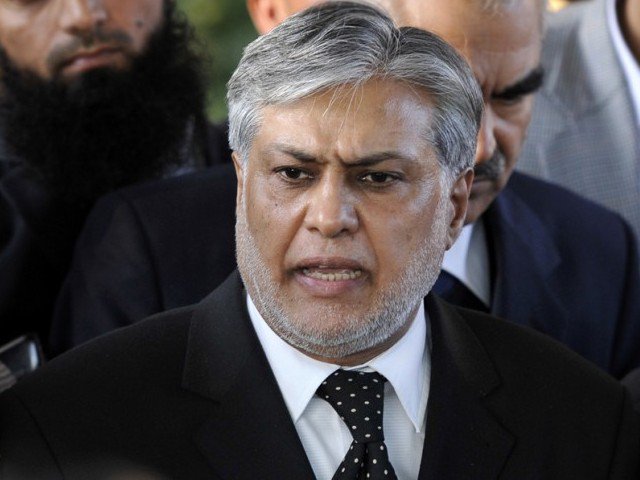 ---
LONDON:
PML-N Senator Ishaq Dar, who lives in London in self-exile, has said that his doctor has given him "conditional permission" to return to Pakistan and expressed his willingness to appear in court for hearings within 15 days.
The former finance minister's statement came hours after he withdrew his petition from the Supreme Court that had sought suspension of the accountability court's order decision to declare him an absconder.
Explaining the rationale behind his decision to withdraw the plea, Dar said that his petition had told the court that he wanted to come to Pakistan within 15 days.
"Therefore, the honourable accountability court should suspend their arrest warrant and the petitioner should be allowed a fair trial in this case," the PML-N leader said.
Read more: PML-N leader Ishaq Dar confirms his return to Pakistan next month
He said that his passport was cancelled by Imran Khan's government in 2018 and all embassies were instructed not to issue a new passport. The PDM government issued a new Pakistani passport to me which enables me to travel back to the country, he explained.
Earlier in the day, a two-member bench comprising Justice Ijazul Ahsan and Justice Mazahar Ali disposed of his petition after he withdrew his petition against declaring him an absconder.
During the hearing, the former finance minister's counsel Salman Butt told the court that Dar wanted to withdraw the petition so that he could approach the relevant forum.
When asked by the court about the reason behind taking back the petition, Butt explained that he was doing so on his client's instruction.
Dar had gone to London in October 2017 for medical treatment while an accountability court was hearing a corruption reference against him by National Accountability Bureau (NAB).
He was accused of amassing assets of an approximate value of Rs831.7 million — disproportionate to his known sources of income by the NAB. He was declared an absconder on November 21, 2017, by an accountability court in Islamabad.
Previously, the court had confirmed the freezing of Dar's assets, properties, bank accounts and investments in Pakistan and abroad, except for an account with the Accountant General Of Pakistan Revenue (AGPR).
He was also declared an absconder in the Rs1.2 billion Hudaibiya Paper Mills case on December 11, 2017.
COMMENTS
Comments are moderated and generally will be posted if they are on-topic and not abusive.
For more information, please see our Comments FAQ