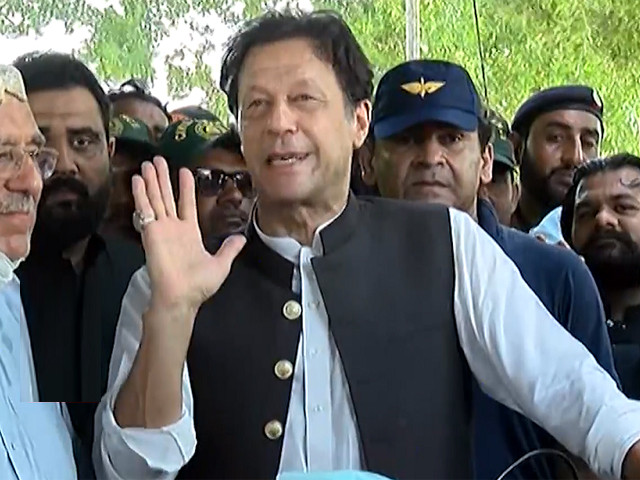 ---
LAHORE:
An additional district and sessions judge sought a reply from SHO Samanabad police station by September 10 in an application filed to seek registration of an FIR against former prime minister and PTI Chairman Imran Khan over allegedly maligning the armed forces by questioning their loyalty.
The petitioner, Shaikh Muzafar Hussain implored in his petition that the ousted premier in a public gathering on September 4 gave a statement against the armed forces which not only hurt the sentiments of the people but also caused severe annoyance among the ranks of armed forces.
He contended that the former prime minister created a negative impression about the security forces despite their unparalleled loyalty to the country shown by the lower rank officers to the top position of army chief.
He implored in his petition that he approached the concerned police station to lodge an FIR against the former PM but in vain as the police officials were not ready to do so.
Also read: 'Thieves cannot be allowed to pick new COAS', Imran defends controversial remarks
Hussain requested the court to direct the SHO Samanabad to register the FIR against the aforesaid accused for using derogatory language against the armed forces and creating doubts amongst public over that loyalty of the army officers.
Addressing a public rally at the Iqbal Stadium in Faisalabad on Sunday, former prime minister Imran Khan had alleged that Nawaz Sharif and Asif Zardari wanted to appoint the army chief of their choice because if a "strong and patriotic army chief" came, they would be questioned about their "loot".
The comments soon descended into a national controversy with condemnations flying in from all sides.
Prime Minister Shehbaz Sharif and other ruling coalition leaders had on Monday condemned Imran Khan's 'poisonous' allegations.
Even President Dr Arif Alvi had distanced himself from the deposed premier's remarks concerning the army chief and said that he should "clarify the comments himself".
Also read: Legal fallout of Imran's controversial remarks on COAS selection
Meanwhile, during a hearing concerning the ban on live broadcasting of the PTI chief's speeches, the Islamabad High Court had expressed displeasure over the statements as well.
CJ Minallah had remarked that Imran "should first decide what he wants" and that he should not "expect that courts will give any relief after doing all this". "You should also hold yourself accountable," the court had said referring to the PTI chief.
Later in the day, the Pakistan Army had also issued a statement saying it was "aghast at the defamatory and uncalled for statement about the senior leadership of Pakistan Army by [the] chairman PTI during a political rally at Faisalabad".
The PTI leaders however had sprung to the defence of their party chief after the Pakistan Army expressed anger at Imran's remarks, saying that the statement did not mean to cause any harm to the institution.
COMMENTS
Comments are moderated and generally will be posted if they are on-topic and not abusive.
For more information, please see our Comments FAQ