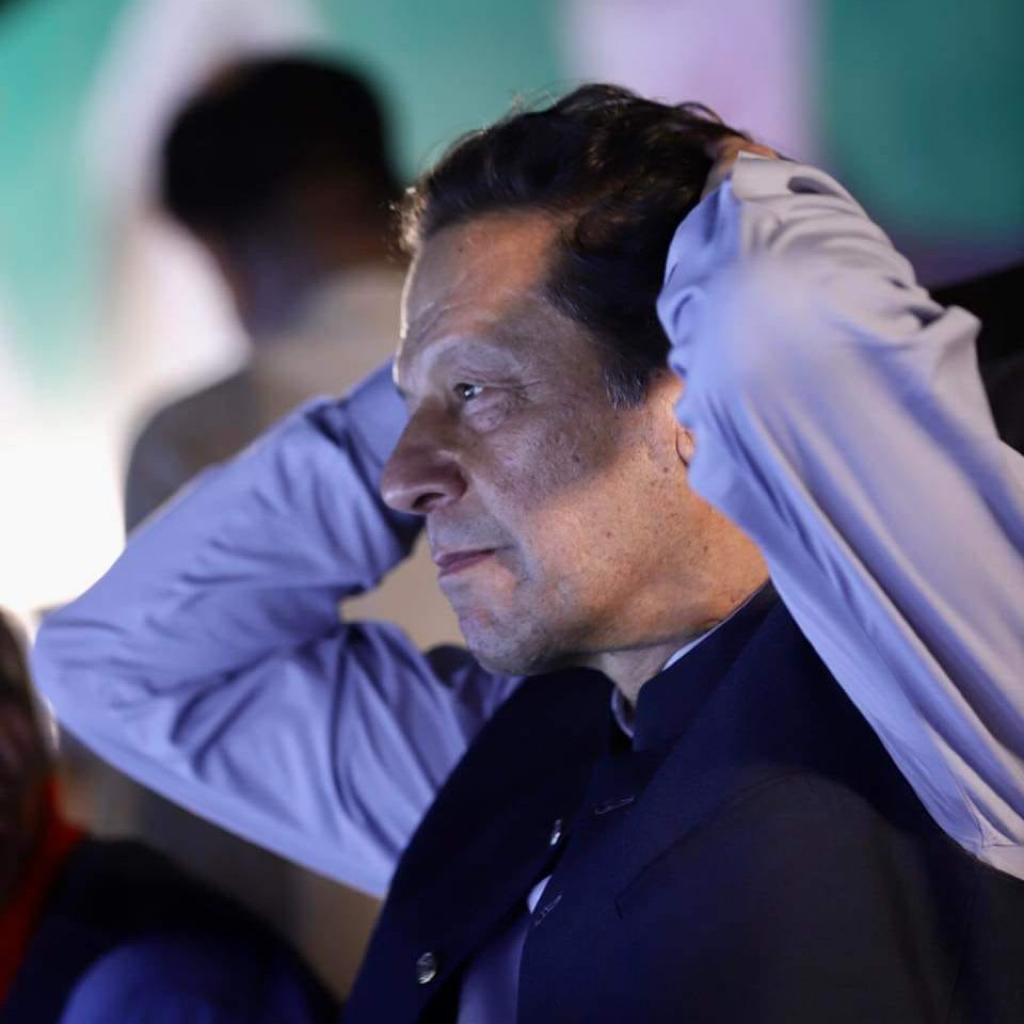 ---
ISLAMABAD:
The skies above former prime minister Imran Khan's Banigala residence were seeming to be a bit clear a few weeks ago. However, the legal storm clouds on Monday stretched from Rawalpindi to Islamabad to superior courts, propelling him into heavy legal and political weather.
Legal experts say Imran's controversial remarks about the selection of the army chief have threatened his chances of securing relief in a slew of cases hanging in balance in the superior courts.
Political oddsmakers have long forecast his deepening legal peril, but his latest tirade has put an exclamation point on his exposure at a time when he badly needs 'favours'.
It was also learnt that senior PTI leaders, who served as the party's medium for communication with the establishment, have been also left stunned.
However, legal experts say that as much as this is a moment of trial for Imran, the judiciary has also found itself juggling the dual message that it was irked by the controversial statements — but it was also not functioning under the influence of the military.
Senior lawyers remind that former prime minister Nawaz Sharif had dealt a fatal blow to his legal battles when he made same mistake of annoying judges and the establishment.
Also read: IHC irked by Imran's remarks on army chief selection
However, a senior PTI leader said that the incumbent judiciary was very conscious about it's image and therefore, the courts would not refuse any relief on merit.
Former additional attorney general Tariq Mahmood Khokhar said, "wholly gratuitously, Imran has blundered grievously. He has managed to annoy almost everyone who matters to him most. Now he must reap the whirlwind. However, the superior judiciary, incensed though it may be, will not be provoked to deny such reliefs to him that may be due strictly on merit".
Senior lawyers are of the view that Imran Khan had also made a blunder by filing references against Justice Qazi Faez Isa during his tenure as the majority of judges took it as an attack on the independence of the judiciary.
Moreover, a section within the legal fraternity and media tends to believe that contrary to his post-ouster rhetoric, Imran Khan is not fighting for civilian supremacy and was only desirous of the establishment's support against rival parties.
Similarly, they allege, that Imran had himself allowed the establishment's influence in the decision-making of significant matters.
The Islamabad High Court will take up Imran's petition on Tuesday (today) for quashing an FIR registered against him under the anti-terrorism act (ATC) for threatening statements against a judge, IG and DIG Islamabad police.
Imran through his counsel has also approached the IHC for quashing the FIR.
Imran in his petition stated that ever since his political rivals took the reins of the federal government, they have been leaving no stone unturned to implicate him in false cases.
Previously, similar attempts had been made by registering 15 cases against him in Islamabad, says the petition.
Likewise, the IHC on Monday questioned Imran Khan's statement regarding the appointment of the next army chief and ordered the Pakistan Electronic Media Regulatory Authority (PEMRA) to regulate Pakistan Tehreek-e-Insaaf (PTI) chief Imran Khan's speeches according to the apex court's earlier ruling.
Furthermore, a five-member larger bench of the high court will resume the contempt case against the former premier on September 8. The court has already expressed its dissatisfaction with the response submitted during the last hearing.
It is learnt that Imran's legal team meeting would be held today (Tuesday) to devise a strategy in this matter. There are very fewer chances that Imran would tender an unconditional apology over his statement against Judge Zeba Chaudhry. However, he may express regret.
One member of the PTI's legal team told The Express Tribune that there was a serious consideration that Imran should challenge the IHC contempt proceedings in the apex court. However, a final decision in this regard will be taken in today's meeting.
Also read: Army 'aghast' at Imran's 'defamatory' allegations on COAS appointment
Besides, the matter of bail for PTI leader Shahbaz Gill is also pending in the IHC. The PTI has already approached the IHC against the Election Commission of Pakistan (ECP) findings in the foreign funding cases.
Islamabad High Court Judge Justice Babar Sattar is also taking up a contempt petition today (Tuesday) against PTI leader Chaudhry Fawad Hussain.
Similarly, several other cases related to PTI are pending in the apex court as well.
A division bench of the apex court led by Justice Ijazul Ahsan will take up a lawyer's petition on September 8 over an alleged hate campaign targeting national institutions, including the armed forces, the apex court and the ECP.
COMMENTS
Comments are moderated and generally will be posted if they are on-topic and not abusive.
For more information, please see our Comments FAQ