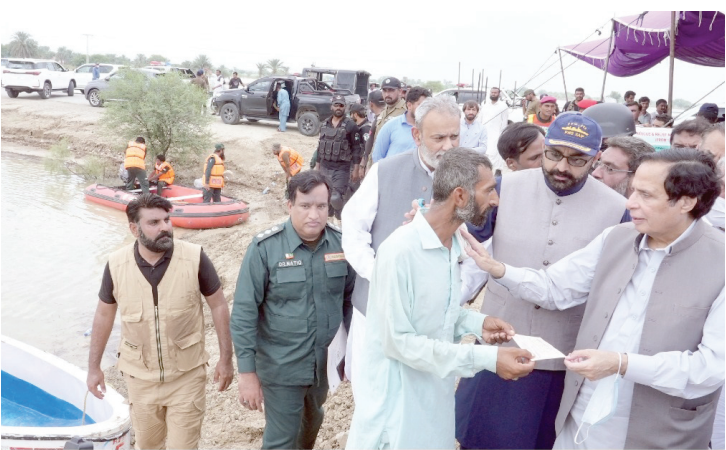 ---
LAHORE:
Punjab Chief Minister Chaudhry Pervaiz Elahi has said that the government had increased the number of special medical camps in the flood-affected areas in order to prevent infectious diseases.
Speaking to politician Nazir Ahmad Jutt who called on him on Sunday, the chief minister said necessary medical facilities and preventive medicines for infectious diseases were available in surplus quantity in the affected areas.
He said Chief Secretary Kamran Afzal was once again present in the affected areas, while the provincial ministers were also overseeing the relief activities.
The chief minister said he was overseeing the steps being taken for the rehabilitation of the affected people.
"The real politics at present is to serve the grief-stricken humanity, which we are doing under the leadership of Imran Khan," he added. On the other hand, the Pakistan Democratic Movement (PDM) parties were doing politics even in the current conditions, he lamented.
He said the attitude of the opposition leaders indicated that they did not value the difficulties faced by the people and they had displayed an irresponsible behaviour on every important occasion, including the flood, and their politics was not based on any principle or ideology.
He said coming forward to help the flood-affected people was not less than worship and "It is our collective responsibility to help our calamity-stricken brothers and sisters."
The chief minister highlighted that the Punjab government was providing all possible resources to help the affected people.
"The present time requires to forget our mutual differences and lend a helping hand to our distressed brothers and sisters," he maintained.
Published in The Express Tribune, September 5th, 2022.
COMMENTS
Comments are moderated and generally will be posted if they are on-topic and not abusive.
For more information, please see our Comments FAQ