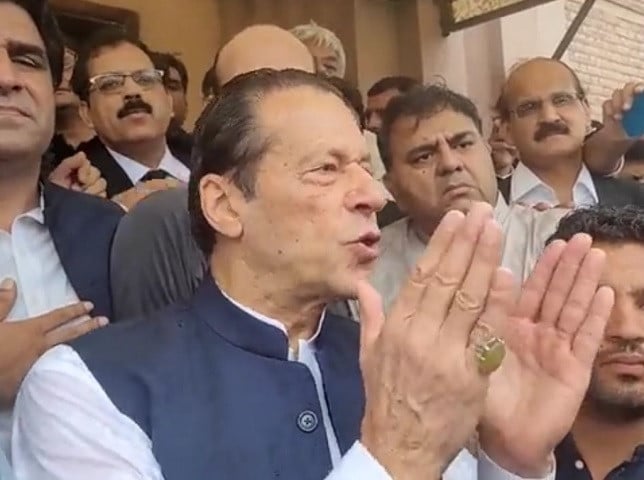 ---
KARACHI/ISLAMABAD:
Senior leaders of the Pakistan Muslim League-Nawaz (PML-N) slammed former prime minister and Pakistan Thereek-e-Insaf (PTI) Chairman Imran Khan, accusing him of doing divisive politics amid devastating floods in self-serving interest.
In their separate press conferences, former Sindh governor Muhammad Zubair, Nihal Hashmi and Minister of State for Petroleum Dr Musadik Malik said the Imran should be treated in accordance with the law in the cases filed against him.
"Imran Khan after failing to achieve his self-serving objectives through intimidation and maligning the national institutions has resorted to a conspiracy against the country just to become prime minister again," Zubair told press conferences at the Karachi Press Club.
Zubair said that three PML-N leaders—Nihal Hashmi, Talal Chaudhry and Danyal Aziz—were sentenced and disqualified by the Supreme Court in the contempt cases. "At that time, the PTI was all praise for court decisions and termed the a victory of justice," he added.
While referring to the Islamabad High Court (IHC), granting a week's time to improve his response in the contempt case, Zubair stressed that he wanted that the courts should consider the precedents of the three cases, while deciding the Imran Khan's case.
Zubair said that hurting national interests was an "unpardonable crime" and action must be taken in the regard. He also criticised former finance minister Shaukat Tarin over the leaked audio of his conversation with finance ministers of Punjab and Khyber Pakhtunkhwa.
In a separate press conference in Islamabad, Minister of State for Petroleum Dr Musadik Malik said parts of the country were under floodwaters, while PTI chairman Imran was busy doing dirty politics in these testing times.
"The flood-affected people are in dire need of remedial measures … But Imran Khan disappoints us all by doing politics at this critical juncture and hurling threatening statements in public meetings," he said.
Malik said that it was unfortunate that PTI leadership and the workers had run a negative campaign against Pakistan armed forces' and the officers martyred in the helicopter crash in Balochistan.
"Imran Khan should be ashamed of ruining the state institutions during the PTI government's tenure with his poor governance and failed policies that caused severe energy as well as food crisis and brought the country to the verge of bankruptcy," Malik said.
"Imran Khan wants to create division in public and institutions for personal gains, especially when the country was struggling to manage the widespread life and property damages caused by the unprecedented floods."
APP
COMMENTS
Comments are moderated and generally will be posted if they are on-topic and not abusive.
For more information, please see our Comments FAQ