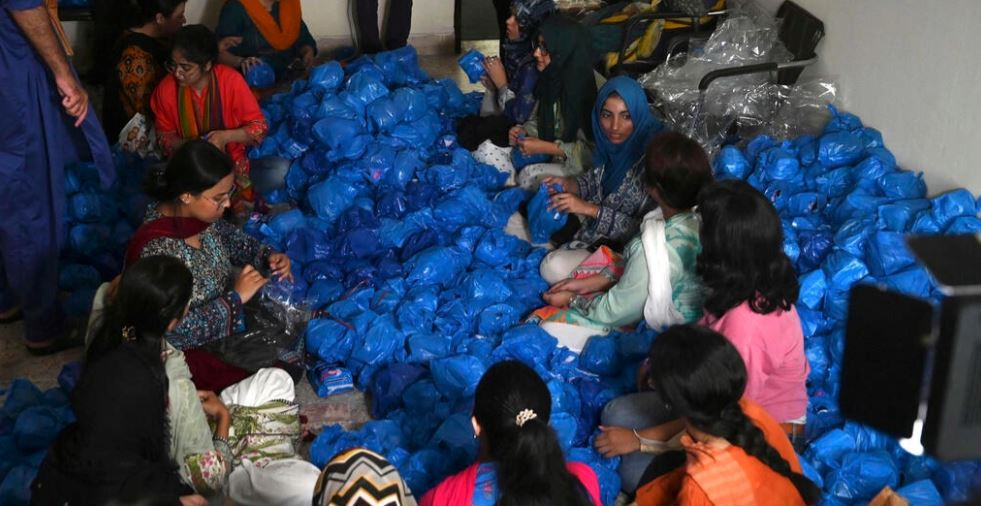 ---
PESHAWAR/ LAHORE/ KARACHI:
As relief efforts for flood victims take centre stage the go-to items being asked for include tents and dry groceries but many seemed to have missed that women are victims as well.
Young girls and women have been equally devastated by the floods and are being forced to live under the open-sky but their present list of needs also includes feminine hygiene products and toilets, which are not part of the conversation about relief items.
Mai Khairan, a 60-year-old flood affectee belonging to Rajanpur, implored that somebody needed to wake up to the fact that women have hygiene and medical needs. "We have already lost our homes. Now we do not have menstrual products or any place to defecate. This is a truly miserable time for women," Mai Khairan lamented.
The elderly lady further said that the lack of spare clothing had further exacerbated the crisis. "While some might be able to get by for a few days, there are young girls and pregnant women as well. Somebody needs to help us." Some 850 kilometres away, in Nowshera, a 60-year-old flood victim, Hajra Bibi, whose daughter-in-law is pregnant and they are living under a makeshift tent, is as distraught as Mai Khairan. "There is no food or other facilities, especially for pregnant women. I am afraid that we might lose our daughter and her baby if this situation lingers on," said a teary Hajra. She implored the government to send lady doctors to the camps so that women's needs were taken care of.
Similarly, Tahira, a pregnant woman living in a camp near Rajanpur, said that along with the lack of female doctors, she was not getting enough food which affects the health of her unborn child. Dr Ahmad Zaib, commenting on this lack of food, said that if pregnant women did not get food and other supplements like folic acid and calcium it would be harmful for both mother and child. Apart from lack of food and proper medical checkups, another major problem for women is the lack of covered toilets.
Saima, an affectee from Sindh who had to evacuate her home, said that men could defecate anywhere they wanted to but women desperately needed a safe place. Anees Imran, a female volunteer of a welfare organisation working on relief operations, agrees with Saima's sentiments. She informed that in her relief efforts she had witnessed that due to non-availability of covered toilets, women had to go to far desolate places to defecate. "When every corner is submerged in water, then this becomes an agonising situation for females." An affectee from Taunsa, Punjab, who declined to give her name, is currently going through this agony. "We have no clue where we can go to answer a call of nature, it is truly horrific. The government and welfare organisations must immediately make arrangements for temporary toilets," she requested. While it is yet to be seen when such requests will be addressed, Dr Zainab Ibad, who is serving in a medical camp at Nowshera, said a delay will be injurious for women, especially the ones who are pregnant.
"The most common disease currently amongst female flood victims is urinary tract infection." Other than the infection, Dr Zainab informed that women are also struggling because of a lack of availability of sanitary pads. "The government must provide women with feminine hygiene products immediately as it has serious repercussions for their health," the doctor said. Kulsoom Ranjha, who is heading the relief efforts for women for a renowned welfare organisation, concurring with Dr Zainab, said that perhaps no one has realised yet that young girls and women were in a much more precarious situation in flood affected areas. She was of the view that more women needed to come forward to help the female flood affectees.
"Menstruating and pregnant women are suffering the most. We are trying to provide a women's package which includes essential medicines, clothes, and feminine hygiene products. Women need to come forward and help their sisters out," Kulsoom appealed while talking to The Express Tribune.
COMMENTS
Comments are moderated and generally will be posted if they are on-topic and not abusive.
For more information, please see our Comments FAQ