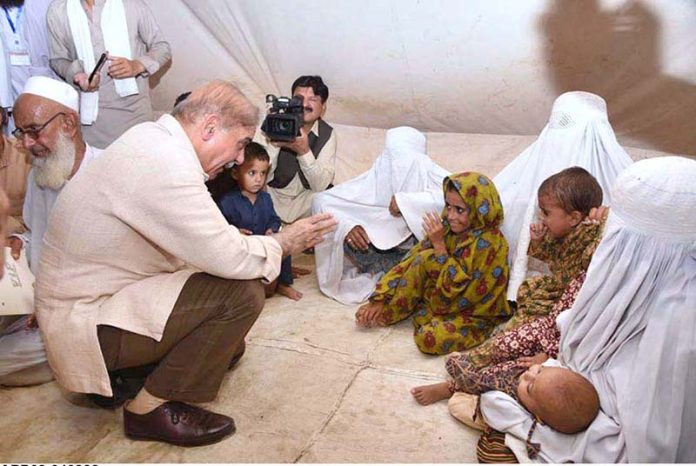 ---
ISLAMABAD:
Prime Minister Shehbaz Sharif arrived in Nowshera on Monday to review the ongoing rescue and relief activities in the flood-ravaged areas.
During a visit to a camp set up for the affectees, the prime minister distributed relief assistance cheques among the flood-stricken people. He also urged philanthropists to arrange food, medicine, clothes or cash for the flood victims as a service to humanity as millions of Pakistanis were looking toward them.
Authorities apprised him of the latest flood situation, ongoing rescue and relief operations as well as the facilities being provided to the displaced people at the relief camps.
He was also informed that the affected people were being extended medical facilities at the camps as well as at their residences.
Flood relief efforts by the Provincial Disaster Management Authority (PDMA) are ongoing in various areas of K-P. At least 10,000 houses have been destroyed, more than 200 people killed and 16 schools damaged, according to a report by the PDMA. At least 959 heads of cattle have also died in various accidents.
The K-P government had issued an "emergency evacuation order" for two districts after the Munda Headworks Bridge in Charsadda, which controlled the flow of the Swat River, collapsed on Friday night due to devastating rain-induced floods in the province.
The prime minister said the federal government had allocated Rs28 billion and will disburse Rs25,000 each among the flood-affected families across the country through the Benazir Income Support Program. He assured that the federal government would also provide more funds if required.
Read: K-P slams Centre for zero response
"This is not the time to do politicking. This is time to support the distressed people for rehabilitation of their houses," he added.
Referring to his interaction with the leadership of Turkey, Iran and UAE, the prime minister said the aid from the friendly countries had started pouring in, besides assurances from the UK, World Bank, World Food Program and other international organisations.
He said he would visit flood-hit Kohistan, Swat and Dir and also hinted at declaring those regions as calamity-hit areas considering the magnitude of the destruction.
PM Shehbaz will also visited the worksite of Mohmand Dam where he was briefed regarding the project's progress. Construction work on the Mohmand Dam hydropower project commenced in May 2019 and is expected to be completed by mid-2026.
However, the completion of the project could suffer delays if "it receives a major hit by fresh floods", said experts.
Mohmand Dam is of immense importance for the mitigation of floods and would save Peshawar, Charsadda and Nowshera from future flooding events. Annual benefits in terms of flood mitigation have been estimated at Rs1.467 billion.