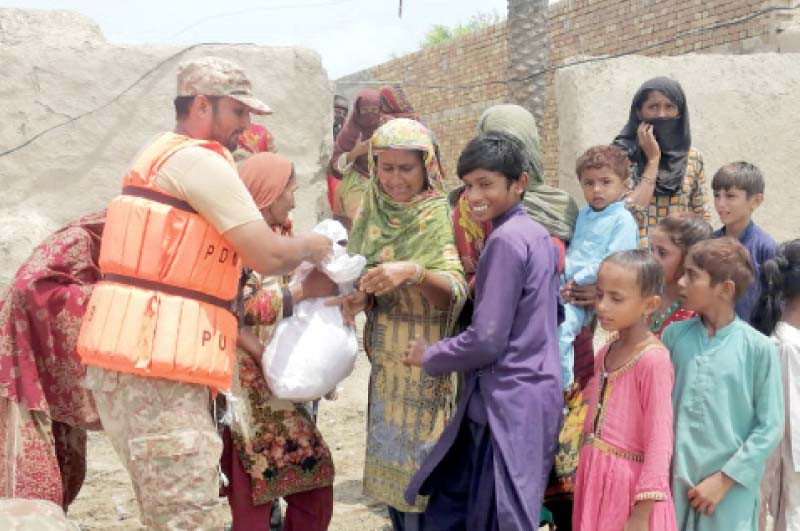 ---
LAHORE:
Punjab Chief Minister Chaudhry Pervaiz Elahi has requested Pakistan Tahreek-e-Insaf (PTI) chairman Imran Khan to appeal to philanthropists to generously donate for rescue, relief and rehabilitation of flood-affected people.
During a telephonic conversation with the PTI general secretary Asad Umar and the party chairman's chief of staff Shiblee Faraz on Saturday, Elahi requested them to convey his message to the former prime minister.
He said floods had created havoc in almost all parts of the country. There is a dire need to help the affected people. Everyone has to play their role in the rehabilitation of flood-affected people and restoration of infrastructure, such as roads, schools and hospitals, in the affected areas.
The chief minister underlined that rehabilitation of the flood-affected families and provision of food, medicines and other essential commodities were the top concerns of the government.
He said the government would compensate the crop losses and rebuild the destroyed houses. The government will not rest till the rehabilitation of the affected people in their homes, he added.
Meanwhile, speaking to former federal minister Sheikh Rasheed who called on him, Chief Minister Pervaiz Elahi highlighted that the government was utilising all available resources to rehabilitate the flood-affected areas.
"I have asked PTI chairman Imran Khan to appeal for lending financial help to the flood-affected people. Helping the affected people is the real politics currently," he maintained.
He vowed not to leave alone the "brothers and sisters who are stuck in calamity" and exhorted that "everyone will have to become support them on their call". He said every eye is in tears over the havoc wreaked by the flood in South Punjab, Balochistan, Khyber-Pakhtunkhwa and Sindh and every heart is grief-stricken.
"We all have to unite and work together in a collective manner for the rehabilitation of the flood affectees," he added.
Speaking about Rawalpindi's development projects, he said the mother and child hospital and a girls degree college would be completed soon.
Traffic flow would improve with the completion of Nullah Lai Expressway, he said and added that he was personally monitoring welfare projects for the people of Rawalpindi.
Sheikh Rasheed also stressed that collective efforts were essential for rehabilitating the flood-affected people and helping the misery-stricken people was mandatory for every affluent citizen.
He lauded the steps being taken by the Punjab government in the emergency situation.
The leaders discussed the unusual situation having arisen due to the flood, relief activities and the political situation came under discussion.
Former federal minister Moonis Elahi and the Chief Minister's Principal Secretary Muhammad Khan Bhatti were also present on the occasion.
Published in The Express Tribune, August 28th, 2022.