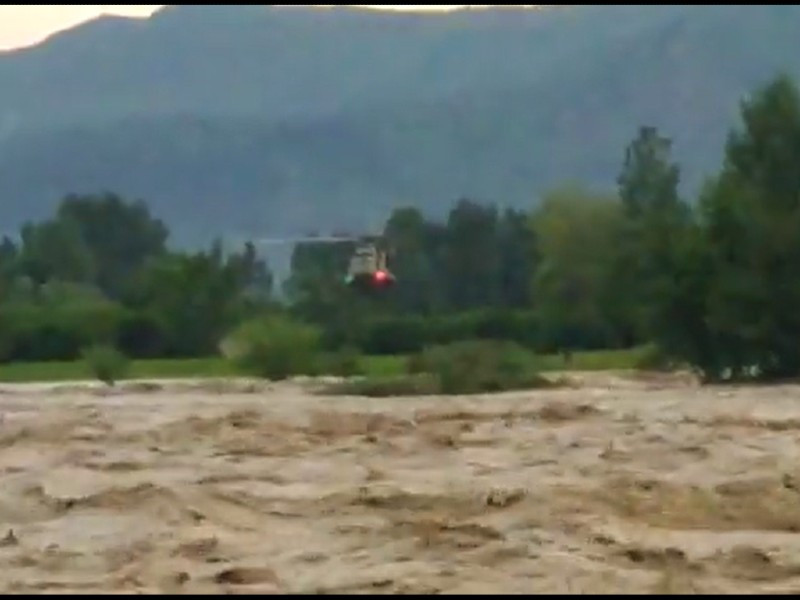 ---
A Pakistan Army team on Saturday rescued 22 tourists who had gone from Islamabad and got struck in Kumrat valley in Upper Dir of Khyber-Pakhtunkhwa province.
The rescue operation was conducted after videos of the affected families went viral on social media where they were reportedly stuck for two days.
"We're stuck here for two days and are braving the cold weather... we can't even talk. We are wet and forced to sleep on the floor," one of the affected women can be heard saying in a short video clip.
She had said that the people stuck had run out of food and water, urging the authorities to rescue them as soon as possible.
Read more: Floods have affected over 30 million in Pakistan: minister
"Reference few families who had gone from Islamabad and struck in Kumrat due to sudden flash floods. Contact has been established by Peshawar Corps troops on the direction of Corps Commander Peshawar," a statement from the military's media wing, the Inter-Services Public Relations (ISPR), said.
It said that 22 people had been evacuated through helicopter. "Some families went on hills and couldn't be evacuated due to bad weather. However, continuous contact is maintained with them and those families have been shifted to safer places around those mountains tops," it added.
The ISPR also said that even those who have not been rescued are now safe and will be evacuated by army aviation helicopters as and when weather permits. "A ground party is also ready from Khaweza Khela for evacuation."
The military urged the people not to travel towards Swat and surrounding areas due to flash floods.
PTI's social media focal person Azhar Mashwani also shared an official press release saying that the district administration is aware and keeping an eye on the situation.
"Rescue teams and local volunteers are waiting for the weather to get better and the people will be rescued as soon as the weather permits," the statement said.