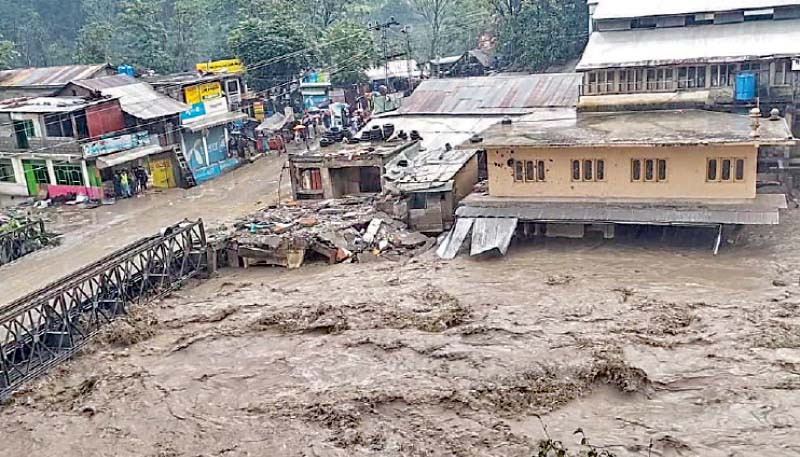 ---
BALAKOT:
Flash floods caused by heavy monsoon showers have killed at least eight people in Balakot during the last 24 hours.
According to police and district authorities, eight members of a nomad family were swept away by a flash flood in Mahandri after severe flooding in Kunhar River and Munawar Nala. A woman was also washed away in the river while attempting to catch wood in the Badhwar area, they said.
According to an official report, Mir Afzal, 53, Maroof, 46, Faiza Bibi, 19, Laiba Bibi, 12, Hammad, 9, Irfan, 30, Nishba Bibi, 27 and one unidentified one-year-old child were among those drowned in the river.
According to the police and district authorities, the bodies of seven people were recovered and a rescue operation was under way to search for the missing. Locals said that the number of causalities was more than double but the local administration could not confirm it.
Due to severe flooding in Munawar Nala, more than 10 shops, two hotels and eight vehicles were also washed away in Mahandri. The flash floods also damaged a mosque, a high school, a primary school and a police station in Mahandri.
Eyewitnesses said rainwater also entered the shops of Pani Bazaar. A large number of locals residing along the banks of Kunhar River have migrated to safe places.
The Kaghan highway remained blocked for traffic due to flooding and landslides at several places. The district administration has instructed tourists to refrain from further travel as Ayub Bridge has been closed for traffic.
The Mansehra-Naran-Jalkhad road was also blocked at several places due to landslides and floods.
The district administration has also instructed locals and tourists not to travel from Balakot to Naran as in many areas, the road was closed due to landslides and floods.
River Kunhar and streams of Balakot were flooded owing to the continuous torrential rains which also destroyed several connecting bridges and roads. The local population and tourists have stranded after several roads and bridges were washed away.
The district administration has sent heavy machinery to open the Mansehra-Naran-Jalkhad road and other connecting roads.
Heavy rains also wreaked havoc in Kohistan, Battagaram, Torghar and Abbottabad. In Kohistan, most connecting bridges and link roads have been destroyed by flash floods. The Karakoram Highway was also blocked at several places, hampering traffic between Gilgit-Baltistan and the rest of the country. (With additional input from APP)
Published in The Express Tribune, August 27th, 2022.