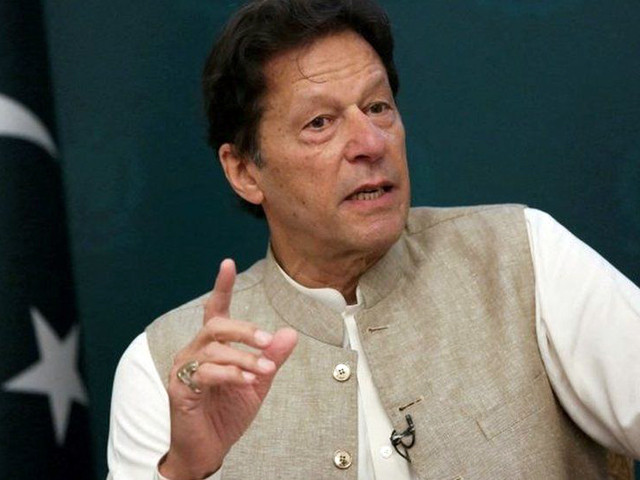 ---
ISLAMABAD:
The Islamabad High Court (IHC) on Monday granted former prime minister and PTI Chairman Imran Khan protective bail till August 25 a day after he was booked under terrorism charges.
The bail plea was heard by Justice Mohsin Akhtar Kayani and Justice Babar Sattar, who approved the bail and ordered him to approach the Anti-Terrorism Court (ATC) within these three days.
Imran's counsel, Babar Awan and Faisal Chaudhry, argued that the PTI chief should be granted protective bail as he wanted to appear before the ATC, but his house was "surrounded by the police".
They further feared that the police personnel could arrest Imran if he appeared in court without a protective bail.
The PTI chief's counsel stated that the concerned ATC judge was on leave hence, the high court had to be approached.
Petition filed for pre-arrest bail
PTI chief Imran Khan on Monday filed an application for pre-arrest bail in the IHC after he was charged with terrorism for threatening an additional sessions court judge.
The pre-arrest bail application, filed by lawyers Babar Awan and Faisal Chaudhry, maintained that Imran had no past criminal record.
It requested that the high court approve the application, and stated that the former premier was ready for any investigation involved in the case.
Read Islamabad police hits back at Imran's 'threats'
Contrariwise, according to sources at the registrar's office, the RO raised three objections to Imran Khan's application for protective bail. The office claimed that Imran did not get his biometrics done, came to the high court instead of approaching an anti-terrorism court, and that a certified copy of the terrorism case against him was not provided to the office.
Imran booked for terrorism
On Sunday, deposed prime minister Imran Khan was booked in a terrorism case on the complaint of Islamabad Saddar Magistrate Ali Javed for threatening the additional sessions judge of the federal capital, Zeba Chaudhry.
The first information report (FIR) was lodged with the Margalla police station at 10 pm, following a speech of Imran Khan at the PTI rally in F9 Park a day earlier. The FIR also carries Section 7 of the Anti-Terrorism Act.
Read More PTI asks supporters to take to streets amid possibility of Imran's arrest
The FIR was lodged hours before another Islamabad police station received a written complaint from a resident of G-11/2 for lodging a case against Imran over making hate-speeches, and inciting rebellion against the army, police and judiciary.
The FIR lodged by the Margalla police said that the PTI chief threatened the additional sessions judge of Islamabad with a view to terrorise the high officials of the police and the judiciary, so that they could not fulfil their duties and refrain from taking action against the former ruling party due to fear of Imran.
COMMENTS
Comments are moderated and generally will be posted if they are on-topic and not abusive.
For more information, please see our Comments FAQ