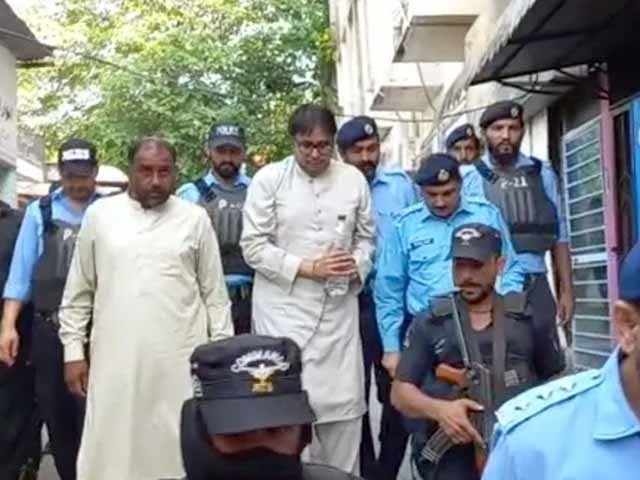 ---
ISLAMABAD:
An Islamabad district and sessions court issued notices on Saturday to the investigating officer and prosecutor on the post-arrest bail plea of Pakistan Tehreek-e-Insaf (PTI) leader Shahbaz Gill.
Gill was arrested earlier this week from Bani Gala Chowk in Islamabad after a video clip of his controversial remarks made on a private news channel went viral on social media. He was subsequently booked on charges of sedition.
Additional Sessions Judge Muhammad Adnan Khan has issued notices for Monday, August 15, seeking responses from the investigating officer and prosecutor on the plea.
According to the petition filed by Gill's counsel, the incumbent coalition government had filed false cases to "settle scores" with the PTI, and that their "false FIR" was filed to achieve political objectives.
The petition requested the dismissal of the order of the judicial magistrate and asked for approval for Gill's physical remand.
It stated that the court should declare that the order given in Gill's case was "not a judicial order but an administrative order".
The petition further maintained that during the investigation, the police could not prove any allegations against Shahbaz Gill.
It requested that the PTI leader be granted post-arrest bail
President District Bar Hafeezullah Yaqub, lawyer Faisal Chaudhry and Ali Bukhari appeared before the court.
Driver's relative released
Hours after the court sent the PTI leader's driver's relative on a judicial remand, Judicial Magistrate Khan discharged ordered his release and discharged him from the case. A two-page written order was issued by the court.
Earlier in the day, the judge had ordered to send the accused to jail on judicial remand. The police informed the court that the investigation of the accused was complete and requested that his judicial remand be approved.
Read PTI distances itself from Gill's remarks
His lawyer Niazullah Niazi said that the accused had "no role" in the case and should be discharged. He maintained that the theft clause was not pertinent to the case and the rest of the clauses were bailable.
A day earlier, a sessions court had rejected the police's request for an extension in Gill's physical remand and sent him to jail on judicial remand on charges of inciting ranks and files of armed forces towards revolt.
Later, the court dismissed the review petition filed by the police against the rejection of their application for Gill's physical remand, declaring it "inadmissible".
Gill was presented before Judicial Magistrate Umar Shabbir upon the expiry of his two-day physical remand, while PTI members gathered outside the court and raised slogans in his favour. Before the hearing began, his handcuffs were removed and he was allowed to meet his legal team.
Judicial Magistrate Shabbir, after hearing the arguments of the prosecutor and the accused's lawyers, decided to reject the request for further physical remand.
COMMENTS
Comments are moderated and generally will be posted if they are on-topic and not abusive.
For more information, please see our Comments FAQ