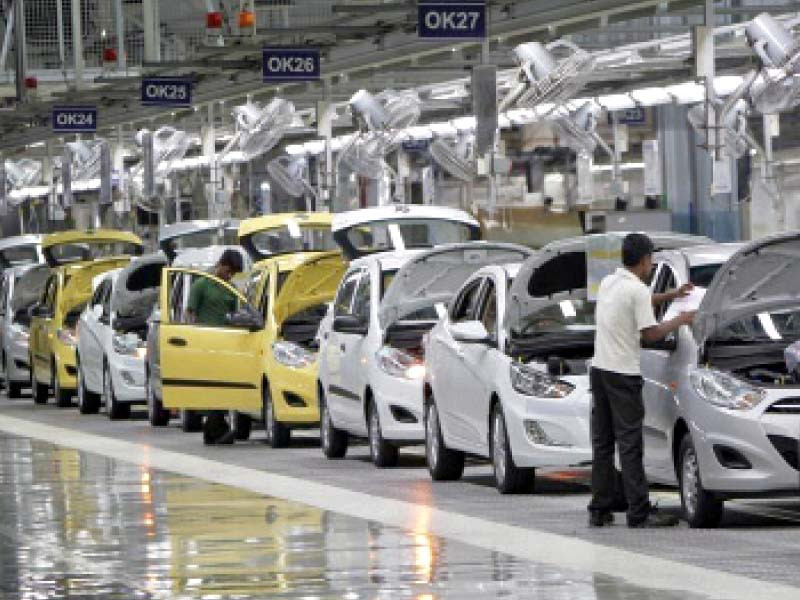 ---
KARACHI:
Due to the ban on auto part imports in an effort to curb the current account deficit (CAD), Pakistan's auto sales plunged 59% to 14,000 units in July 2022 when compared with June 2022.
This drop includes sales of non-Pama (Pakistan Automotive Manufacturers Association) members, as per a Topline Research report.
The decline is primarily due to production issues and higher car prices, which has reduced the purchasing power of consumers. Auto sales were also down by 52% in July as compared to the corresponding period last year, according to Topline Research analyst Sunny Kumar.
"The decline in sales is mainly attributable to unavailability of auto parts led by restrictions on letters of credit (LCs) to curb imports, forcing auto players to reduce their working hours to a single shift," said Aba Ali Habib Securities auto analyst Ali Asif.
Indus Motor (INDU) posted a decline of 62% to 2,375 units primarily due to non-production days in July 2022, according to Topline Securities.
Similarly, Hyundai sales were down by 89% to 201 units from 1,871 units in June 2022.
Pak Suzuki Motor Company (PSMC) sales were down 58% in July 2022. All variants of the company registered a decline in the range of 57-95% except for Alto, whose sales increased to 4,618 units in July from 1,216 units in June, largely due to a low base effect.
"Car sales for July dropped due to difficulty in opening LCs
for import of parts and CKD
kits, resulting in a decline in production and delay in car deliveries," said senior auto analyst Arsalan Hanif.
Honda Atlas Cars (HCAR) also recorded a decline of 35% to 2,537 units in July 2022. This was led by a decline in sales of City and Civic by 30% as compared to June figures.
Amongst tractors, Millat Tractors (MTL) recorded a decline of 60% from last month and 65% to 1,011 units when compared to the same period last year. Al Ghazi Tractors (AGTL) recorded sales of 1,243 units, down 48% from June and 12% less than the same period last year.
"The decline in car sales is mainly attributable to supply constraints and halted production", said AL Habib Capital Markets Ltd (AHCML) Research Analyst, Asad Ali.
State Bank of Pakistan (SBP) has put restrictions on and limited the imports of CKD kits which has stalled assembly operations.
Pakistani bike sales were down by 33% from June and 34% when compared with the same period last year. Honda (ATLH) recorded sales of 80,000 units, down
28% from June and 20% when compared with the same period last year.
The sale of trucks and buses was down 22% from June and 37% year on year to 379 units in July 2022. This was primarily due to a drop in transportation activities amid a slowdown in the overall economy, said Sunny Kumar.
Published in The Express Tribune, August 13th, 2022.
Like Business on Facebook, follow @TribuneBiz on Twitter to stay informed and join in the conversation.
COMMENTS
Comments are moderated and generally will be posted if they are on-topic and not abusive.
For more information, please see our Comments FAQ