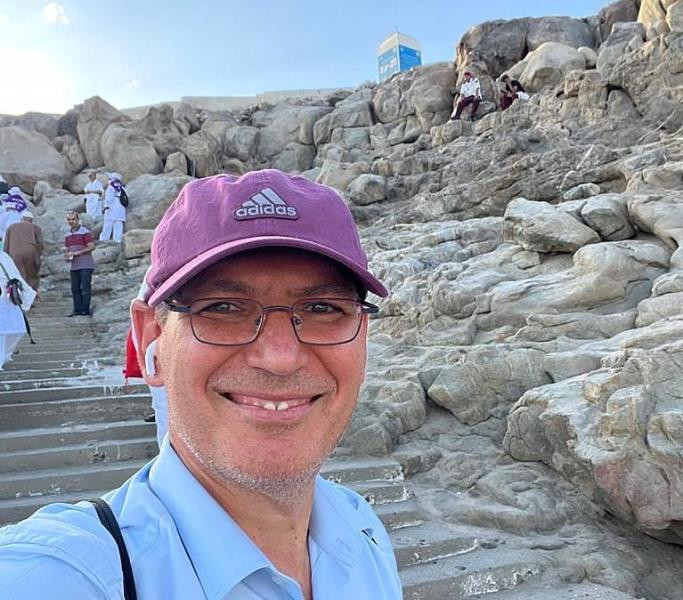 ---
RIYADH:
A Saudi who allegedly helped a non-Muslim enter Makkah has been arrested, police in the kingdom said on Friday, after online backlash against an Israeli journalist.
The journalist, Gil Tamary of Israel's Channel 13, on Monday posted to Twitter a video of himself sneaking into Makkah in defiance of a ban on non-Muslims.
Makkah regional police have "referred a citizen" to prosecutors for alleged complicity in "transferring and facilitating the entry of a (non-Muslim) journalist", a police spokesperson said in comments reported by the official Saudi Press Agency.
The SPA did not name the journalist but said he is an American citizen, whose case has also been referred to prosecutors "to take the necessary procedures against him in accordance with the applied laws".
Despite growing behind-the-scenes business and security contacts, Saudi Arabia does not recognise Israel and did not join the 2020 US-brokered Abraham Accords that saw the Jewish state establish ties with two of the kingdom's neighbours, the United Arab Emirates and Bahrain.
In his roughly 10-minute clip, Tamary visits Mount Arafat, where robed pilgrims gather to pray during the high point of the Hajj pilgrimage each year.
He makes clear he knows that what he's doing is outlawed but says he wanted to showcase "a place that is so important to our Muslim brothers and sisters".
Also read: Israel asks Saudi Arabia to let Hajj pilgrims fly direct from Tel Aviv
Tamary's justification, and subsequent apology, did little to quiet angry Saudi social media responses.
On Wednesday, an Israeli minister had denounced Tamary's report as "stupid and harmful" to Israel-Gulf ties.
"I'm sorry (but) it was a stupid thing to do and take pride in," Israel's regional cooperation minister Esawi Freij, who is Muslim, told public broadcaster Kan.
"It was irresponsible and damaging to air this report just for the sake of ratings."
Freij said the report hurt US-encouraged efforts to gradually move Israel and Saudi Arabia towards more normal ties.
Tamary was in Jeddah covering US President Joe Biden's visit. He later apologised for his act, saying he had not intended to offend Muslims.
Also read: Rise of Arab-Israel axis pushes Iran to redouble nuclear talks push
"If anyone takes offence to this video, I deeply apologise," he wrote in English on Twitter.
Iran is seeking economic guarantees from the US to revive a 2015 nuclear deal so as not to be "stung twice" the same way, its foreign minister said.
The agreement, formally known as the Joint Comprehensive Plan of Action (JCPOA), gave Iran sanctions relief in exchange for curbs on its atomic programme to guarantee that it could not develop a nuclear weapon -- something it has always denied seeking.
But the US unilateral withdrawal from the accord in 2018 under then-president Donald Trump and the reimpositon of biting economic sanctions prompted Iran to begin rolling back on its own commitments.
"We do not want to be stung twice from the same spot. In order to enjoy the full economic benefits of the JCPOA, the Americans must accept some commitments and guarantees," Hossein Amir-Abdollahian told state television in an interview on Thursday night.
"We are now at a point where we have a text ready in front of us; we agree with all parties on 95% of its content," he said. "We are serious about reaching a good, strong and lasting agreement but we do not want an agreement at any price."
Talks in Vienna that started in April 2021 to restore the deal have stalled since March amid differences between Tehran and Washington on several issues.
The two sides negotiated indirectly through the European Union coordinator.
Qatar hosted indirect talks last month between the United States and Iran in a bid to get the process back on track, but those discussions broke up after two days without any breakthrough.
"The Americans have not yet assured us that we can enjoy the full economic benefits of the JCPOA," Amir-Abdollahian stressed, saying Iran will continue its indirect negotiations with the US through the European Union.
On Thursday, State Department spokesman Ned Price said Iran "doesn't seem to have made the political decision -- or decisions, I should say -- necessary to achieve a mutual return to compliance with the JCPOA."
"We have continued to engage in indirect diplomacy with Iran, courtesy of the efforts of the European Union and other partners, but Iran, to this point at least, has not displayed an inclination to seek that deal," according to a briefing on the Department's website.
On Friday, his Iranian counterpart said the United States was the main obstacle to reviving the deal.
"Indecision of the unfaithful US is the main hurdle for a deal," foreign ministry spokesman Nasser Kanani said on Twitter.
COMMENTS
Comments are moderated and generally will be posted if they are on-topic and not abusive.
For more information, please see our Comments FAQ