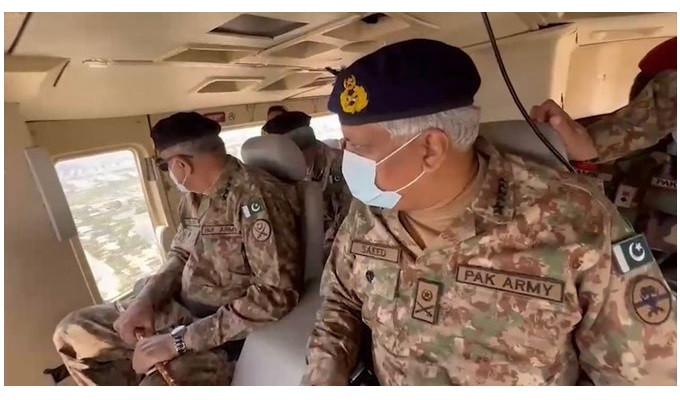 ---
Army chief Gen Qamar Javed Bajwa took an aerial view of Karachi on Tuesday to inspect the impact of urban flooding in the city caused by the recent heavy spell of rains, the military said.
"Chief of Army Staff (COAS) General Qamar Javed Bajwa reached Karachi directly from KSA," said the Inter-Services Public Relations (ISPR) in a statement.
The military's media wing added that Gen Bajwa was briefed about the latest situation of flooding and the army's complete support rendered to the civil administration in Karachi.
He appreciated the timely response of formations in aid of civil administration for rescue and relief efforts, the communiqué added.
Gen Bajwa, the ISPR added, directed Karachi Corps to "ensure that all-out efforts and every single resource is utilised to bring comfort to the people".
Earlier, upon his arrival, the COAS was received by Corps Commander Lieutenant General Muhammad Saeed.
Army and Rangers personnel are busy in relief efforts after the unprecedented rain spell in the port city. At least 388 de-watering pumps have been set up by the armed forces and the civil administration to clear the worst affected localities.
According to the Provincial Disaster Management Authority (PDMA), 26 people lost their lives in rain-related incidents across Sindh, from June 20 to July 10.
As per the official data, in addition to 26 deaths, 11 have been injured within the same period. The highest number of deaths occurred in Karachi.
COMMENTS
Comments are moderated and generally will be posted if they are on-topic and not abusive.
For more information, please see our Comments FAQ